Lamborghini's First Fully Electric Car Will Be Practical and Powerful
It should still have that Lamborghini flair, though.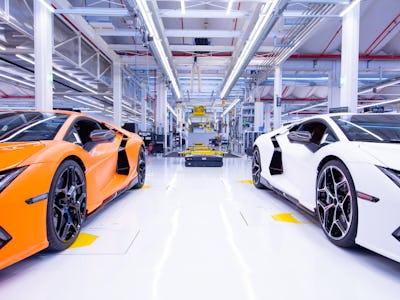 Lamborghini is finally coming to market with an all-electric model, but it won't be released until 2028. The Italian sports car maker isn't in a rush since it's working on several hybrid models of its supercars, but teased that its first all-electric car will be a 2+2 grand tourer. As a grand tourer, Lamborghini's first true EV may lean more towards practicality, but it should still come with the extravagance we expect with the Lamborghini name.
Lamborghini revealed very little detail on its upcoming all-electric model, but we're still a few years out from its debut. For now, the automaker is busy pushing out its hybrid supercar, the Revuelto, which has secured enough orders for Lamborghini to stay busy for the next two years.
DELUXE DAILY DRIVER
Lamborghini has kept details of its all-electric model under wraps, with CEO Stephan Winkelmann previously telling Autocar that it would have "more ground clearance" and be more of a daily driver than its other offerings.
With nothing concrete to go off of, we can draw some inspiration from Lamborghini's conceptual EV that was designed in collaboration with the Massachusetts Institute of Technology back in 2017. The Terzo Millennio design concept featured integrated electric engines in each wheel and a "self-healing" carbon fiber structure that allows the EV to detect cracks and damages and prevent them from getting worse. Of course, there's no guarantee that any of the Terzo Millennio's design elements will come to a production model, much less Lamborghini's first all-electric model.
EMBRACING ELECTRIC
Lamborghini is planning to debut its first true EV in 2028 but will work on hybridizing its entire model range by 2024 in the meantime. That means we'll see more hybrids from Lamborghini beyond its Revuelto, including hybrid versions of the Urus and Huracan in 2024. After its first all-electric model, Lamborghini is planning to release a fully electric version of its Urus SUV.