Kawasaki Is Close to Releasing Its First Electric Motorcycles
It's also working on hybrid and hydrogen-powered models.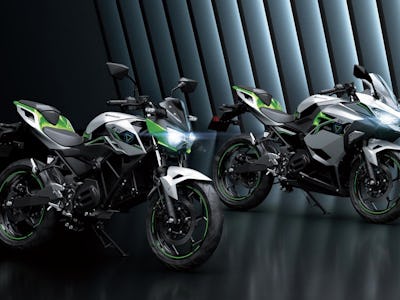 Kawasaki
Kawasaki may be late to the EV party, but at least it's fashionably late with two attractive all-electric street bikes, the Ninja e-1 and the Z e-1, according to homologation data submitted to Australia, as first spotted by Motorcycle.com.r
Kawasaki first showed off its electric models during the EICMA Milan Motorcycle Show last year, generating some hype for the first electric motorcycle to come from one of four famed Japanese moto brands. There are already existing options from upstarts like Zero and LiveWire, but the four major Japanese motorcycle makers still haven't put any out to market.
Ninja E-1 and Z-1 Specs
According to the report, the Ninja e-1 and the Z e-1 will share the same body as their gas-powered 400 series counterparts. The report also notes that the brakes and wheels will come from the 300 series models. Both electric motorcycles will put out 12.1 horsepower, which is slightly lower than when they were first announced with nearly 15 horsepower.
We don't have any top speed or mileage numbers yet, but the report shows that the electric motorcycles will be powered by two removable battery packs that combine for a 3 kWh capacity. That capacity feels relatively low, especially compared to something like the LiveWire S2 Del Mar which has a 10.5 kWh battery for a 113-mile range when riding around in a city.
LONG OVERDUE
Beyond these first two electric models, the report says that Kawasaki is working on a hybrid model, as well as one powered by hydrogen. Kawasaki previously revealed its plans to release a hybrid motorcycle in 2024, while a hydrogen-fueled motorcycle would potentially come out after 2030. The hydrogen-powered model is likely to come out of an agreement between Japan's big four motorcycle makers to develop these bikes.
With Kawasaki's homologation data submitted, it may be the first to bring an electric motorcycle from a Japanese brand to the market. However, Honda, Suzuki, and Yamaha have all made their own plans for an electric motorcycle and may be right behind Kawasaki's release plans.