Harley-Davidson's Next Electric Motorcycle Is a Speedy City Commuter
With an impressive 0 to 60 mph in just three seconds.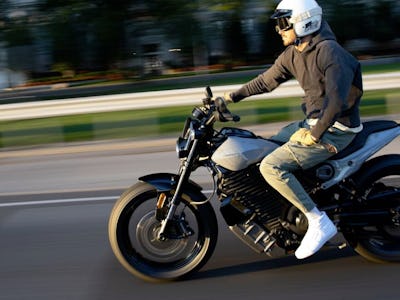 Harley-Davidson
Even though LiveWire is a division of Harley-Davidson, its electric motorcycles are a far cry from the brand's iconic choppers. The S2 Del Mar from LiveWire caters to urban commuters and though it was announced back in May 2022, we finally have official specs.
A MODEST RANGE
The S2 Del Mar will top out at 103 mph and will go from 0 to 60 mph in three seconds. The electric motorcycle will pack 84 horsepower and 194 lb-ft of torque, nearly matching the performance of the LiveWire One.
Unlike the LiveWire One and its estimated 146 miles in the city, the S2 Del Mar will offer a range of 113 miles in the city. If you're doing a consistent 70 mph on the highway, you'll only get 43 miles. It'll take 78 minutes to charge up the S2 Del Mar from 20 to 80 percent on a Level 2 charger, while a standard outlet will charge the e-motorcycle up in six hours from 20 to 80 percent.
The S2 Del Mar will sit on 19-inch wheels with Brembo front brakes. There will also be a four-inch display that lets you change between the four drive modes or personally customize it to your taste. You'll also get to connect the e-motorcycle to the Del Mar app for even more info, like rider profiles, navigation, ride history, roadside assistance, and a maintenance schedule. LiveWire also decided to go with over-the-air updates for the S2 Del Mar.
The LiveWire One remains the company's flagship electric motorcycle, while the S2 Del Mar will occupy a more affordable price point for those who need something for shorter drives.
COMING TO EUROPE, TOO
LiveWire will offer the S2 Del Mar in three colors, starting at $15,499. The company has already opened reservations for its second electric motorcycle and was originally expected to start deliveries in July. Beyond its upcoming U.S. release, LiveWire is planning to expand into Europe by offering a Launch Edition of the S2 Del Mar that's set to deliver in September.