The iPhone 16 Pro's Nearly 7-Inch Screen Might Be Too Tall
We have to stop making phones so tall.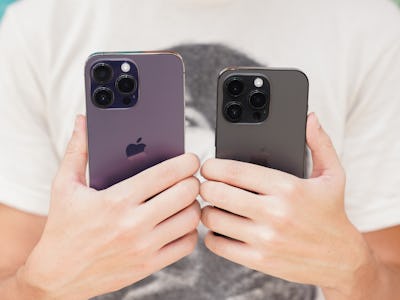 Photograph by Raymond Wong
I didn't choose to be the size police, but someone has to put their foot down. We can't keep making iPhones this tall. I'm speaking, of course, about very early rumors surrounding the size of the iPhone 16 (that's right, keep up) from 9to5Mac, which suggests next year's iPhone 16 Pro Max could have a screen size of 6.9 inches.
That's a good example of the slow screen size creep almost all phone makers have partaken in over the last decade, and, like phone thickness, evidence that design trends have largely abandoned common sense — and human anatomy.
Basically, an iPad mini
At a screen size of 6.9 or even seven inches, an iPhone 16 Pro Max or iPhone 16 Ultra (should Apple decide to go that way) would be within spitting distance of the current iPad mini's 8.3-inch display. Not exactly small for a phone, and it definitely stretches the already thin acceptability of the iPhone Pro Max's large size.
Apple's move towards larger and larger screens has been met with broad acceptance by fans and general consumers alike because when it comes down to it, people like big screens. What works for TVs has continued to work for phones. It's the same reason why the smaller iPhone form factor was retired after the iPhone 13 mini and replaced with the iPhone 14 Plus. There was just more interest in a larger screen, even if it came with similar internals.
A larger display size won't be without its benefits either. As I noted when I wrote about "thick phones," a larger body, either because of thickness or length, means more room for components. A taller iPhone 16 Pro could be just one of the factors that allow for the next great camera advancement or battery life improvements iPhone owners will go gaga for. But I do have to wonder if the size of these phones really will alienate people at some point. How tall is too tall? We already can't reach the top of iPhones with our thumbs, and making that even more difficult is supposed to be a benefit, how?
Size Shouldn't Be Tied to Capability
Like it's strange to think, ignoring operating system preference, if someone was looking for flagship specs in a reasonably sized device, I might recommend the Pixel Fold before Apple's own iPhone Pro. But considering how delightfully short and thick the Pixel Fold is at 5.8 inches and 0.5 inches, respectively, it could very well be our reality.
You shouldn't have to deal with a gigantic display if all you care about is the best chip or camera. Apple has already decoupled the size of a phone from its specs in some sense because of the previously mentioned iPhone 14 Plus. Why not complete that process and bring back a smaller form factor too? The answer is likely because not enough people care, and again, big phones sell. But as a card-carrying small phone fan, I have to believe they won't sell forever.