How to Watch Google's Pixel 8 Event and Everything You Need to Know
Here's a sneak peek at all of Google's new Pixel hardware.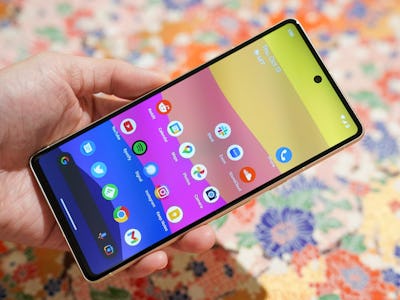 Now that Techtember has come and gone, Google is looking to officially kick off Techtober with its Made by Google 2023 event.
Even with the Pixel Fold and Pixel Tablet out the door, there's still more hardware to show off before the end of the year. Following a stream of rumors, Google confirmed with an event teaser a few weeks ago that it would debut its Pixel 8 smartphones and Pixel Watch 2.
Inverse will have hands-on impressions of the new devices, along with event coverage so stay tuned for more. In the meantime, here's everything we're expecting at Google's event tomorrow.
What Time Does Made by Google 2023 Start?
Google will be holding an in-person event in New York City, starting at 10 a.m. ET / 7 a.m. PT.
Is There a Livestream for Made by Google 2023?
Yes! You can watch it live on Google's website or on YouTube (or in the embedded video below).
BIG UPGRADES FOR PIXEL 8
For the Pixel 8, Google is rumored to go with a smaller, flat display with a higher 120Hz refresh rate instead of the existing 90Hz one in the Pixel 7. Inside, the Pixel 8s are expected to get the new Tensor G3 chip, along with 8GB of RAM and 128GB of storage for the base model and 12GB of RAM and at least 128GB of storage for the 8 Pro model.
According to the leaks, Google has significantly improved the camera capabilities for the Pixel 8 Pro with a 50-megapixel main camera that will be paired with 48-megapixel ultrawide and 48-megapixel 5x telephoto cameras. While the base Pixel 8 model only gets the upgraded main camera, both models will share a 10.5-megapixel front-facing camera. All these upgrades are expected to lead to a price hike, too, with rumors suggesting a $100 increase for both the Pixel 8 and 8 Pro.
Rumors point to black, gray, and pink options for the Pixel 8, while the Pixel 8 Pro will come in Blue "Bay," Porcelain, and black as seen in this unboxing.
IMPROVED CROWN FOR PIXEL WATCH 2
With the sneak peek that Google offered, it looks like the rumors of a crown that sits more flush along the watch face are true. Eagled-eye viewers also spotted new sensors on the bottom of the watch face, which could point to Google implementing heart rate or stress level sensors similar to Fitbit.
We're expecting Google to upgrade the Pixel Watch 2 with a Qualcomm Snapdragon W5 Gen 1 processor, along with a dedicated ultra-wideband chip. We'll have to wait and see if Google made any improvements to battery life with the smartwatch, but it seems like that won't be the case with the Pixel Watch 2.
We also may be getting a bunch of new features with the second-gen smartwatch, including the ability to automatically detect specific exercises and a safety check option that starts a timer to contact emergency services if you don't confirm in time. We haven't heard much about pricing on the Pixel Watch 2, but it's rumored to come in black, white, and porcelain to match the Pixel 8 Pro, and blue to match the Pixel 8.
NEW COLORS FOR PIXEL BUDS PRO
Again spotted in the teaser video, Google looks like it has plans to update the color of the Pixel Buds Pro at the very least. For a quick few frames, we can see the Pixel Buds Pro in a gray case that's obviously meant to match the porcelain color of the Pixel 8 Pro.
Only the gray color of the Pixel Buds Pro was teased, but we can easily see Google releasing a color to match each new smartphone model. We haven't heard much in terms of specs for a refreshed Pixel Buds Pro but there's a good chance that Google has upgraded something in terms of audio quality or software enhancements.