The Pixel 7a Has the Best of Google's More Expensive Phones
Google's back with a new A-series smartphone, a higher price, and a different camera strategy.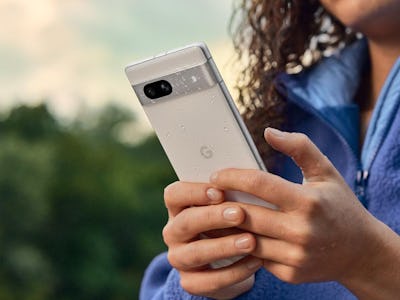 Google I/O 2023 focused on the future of software at Google, but the company also marked the occasion with a serious update to its Pixel hardware. Case in point is the Pixel 7a, Google's next A-series smartphone, available starting today.
The $499 Pixel 7a is more expensive than the Pixel 6a (now dropped from $449 to $349), but for that higher price, you're getting more of what made the Pixel 7 and 7 Pro compelling, from internal hardware advancements to exclusive AI-powered features that make the experience of actually making phone calls better.
New Colors
The Pixel 7a has the metallic camera bar and single-color back panel of its predecessors, this time in Charcoal (black), Snow (white), Sea (blue), and exclusive to the Google Store, Coral (pink-orange). The Coral and Sea options are by far the most interesting, and Google seems to agree — it's releasing a new version of the Pixel Buds A-Series in Sea to match the phone.
Pixel 7a Specs
Display: 6.1-inch OLED ( 2,400 x 1,080 resolution), up to 90Hz refresh rate
Chip: Google Tensor G2
RAM/Storage: 8GB LPDDR5 RAM + 128GB
Battery: 4,385 mAh + wireless charging
Rear cameras: 64-megapixel (f/1.89) main + 13-megapixel (f/2.2) ultrawide
Front camera: 13-megapixel (f/2.2) 95-degree FOV
Google claims that thanks to changes to the internal architecture of the Pixel 7a, this is its "most durable A-series phone." More important, probably, are the new components the company is using. The Pixel 7a has a 6.1-inch FHD+, 90Hz, OLED display — a first for the midrange line — and one that also promises to hit a 25 percent higher peak brightness in difficult conditions like direct sunlight.
Inside, the Pixel 7a has the same Tensor G2 that the Pixel 7 and 7 Pro, which means it supports AI-enabled features those phones formerly had as exclusives, including Direct My Call for navigating phone trees, Clear Calling to cut out background noise, and Face Unlock for another way to get in the phone. The Pixel 7a comes with 8GB of RAM and 128GB of storage, 2GB of RAM more than the Pixel 6a. And finally, the Pixel 7a has Qi wireless charging as another way to top up your Pixel 7a.
64-megapixel Camera
Having Tensor 2 onboard means the whole suite of Pixel camera features is available to use. Photo Unblur for shakey shots, Magic Eraser for when you just want to remove whole subjects, and Long Exposure for when you actually prefer some artful use of blur. These range from useful to gimmicky, but Google knows that the Pixel camera is still one of the main reasons to buy, and it's chosen to provide.
The Pixel 7a has a 64-megapixel main camera, a whole 14 megapixels larger than the Pixel 7 Pro. Google's high-end model still has a bigger image sensor, but more megapixels will hopefully keep the Pixel 7a competitive for longer. Alongside the main, the Pixel 7a has a 13-megapixel ultrawide (with a 120-degree FOV) and a 13-megapixel selfie camera to round out the package.
Price and Release Date
The Pixel 7a is available starting May 10 at $499, in black, white, blue, or red (if you're willing to buy from Google directly.