5 Things You Need to Know About Ford's New F-150 Lightning Flash
Ford's new Lightning trim is taking a tech-forward approach to electric trucks.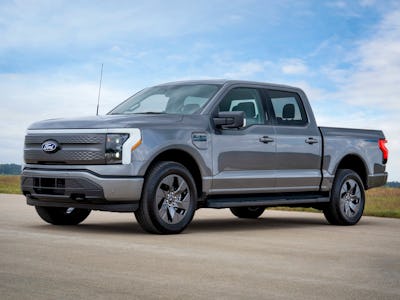 Ford
The F-150 may be the most mainstream truck in America, but Ford isn't out of new tricks just yet.
For proof, see the new F-150 Lighting Flash, yet another installation on the myriad electric truck trims already offered by Ford. This time — instead of the Pro or Lariat trims — Ford said it's taking a "tech-forward" approach to the Flash that includes an emphasis on automated driving, big screens, and more.
Here's everything you need to know about the newly introduced Ford F-150 Lightning Flash.
Extended range battery
The Ford F-150 Lightning Flash will use Ford's extended battery to give it 320 miles of range, putting it on par with other longer-range models in the XLT, Pro, and Lariat trims.
A little over 300 miles of range isn't mind-blowing in the world of long-range EVs, but it's still notably above average. And considering this is a big, chonkin' electric truck we're talking about here, it's even more serviceable. That range is, however, short of competitors like Rivian's R1T which offers an extended-range electric truck with an EPA-estimated 352 miles per charge.
Lots of tech
As promised by Ford, the Flash trim of the Ford F-150 Lightning is decked out in tech. That means a 15.5-inch LCD capacitive touchscreen, a Bang & Olufsen sound system with eight speakers and a subwoofer, a wireless charging pad in the center console, and "Approach Detection" which unlocks your truck when you're within five feet.
Probably the most interesting piece of tech, however, is version 1.2 of BlueCruise, the automaker's hands-free driving tech. Customers who buy the Flash are able to take advantage of a 90-day free trial which should help convince more people that Ford's automated driving is worth the upgrade.
BlueCruise
Speaking of BlueCruise, the ability to take advantage of hands-free driving is clearly pretty central to the pitch of the Flash as a tech-forward truck.
BlueCruise, for the uninitiated, is a pretty robust self-driving tech that can be activated on more than 100,000 miles of roadways in the U.S. While the Flash will come with the free three-month trial, Ford owners can opt to pay either $800 for a year of $75 per month to use BlueCruise after that.
This isn't completely hands-free like the recently introduced Mercedes-Benz's Drive Pilot, but it is Level 2, which means features like automatic lane-changing, acceleration, and breaking are all on the table.
Competitive price
With an extended battery and all that tech, it's no surprise that the Flash will start at a pretty hefty price of $69,995. For reference, the base model of Ford's F-150 Lightning starts at $49,995 but can go as high as $100,000 MSRP depending on trim.
That keeps Ford more than competitive to upstarts like Rivian and its R1T which starts at $73,000 and Chevy's Silverado EV which starts at around $50,000 but can go as high as $80,000.
Ford F-150 Lightning Flash release date
If you're itching to get behind the wheel of Ford's "tech-forward" trim option you'll have to wait until early 2024 when Ford starts accepting online orders for the new electric truck trim.
Or maybe Tesla will convince you to buy its monstrous Cybertruck before then. I can't speak to your taste, but unless you're a hardcore Tesla stan, my money is on the former.