Fiat's Affordable Compact Electric SUV Comes With a Built-in Back Massager
Best of all, the Fiat 600e will come in at under $40,000.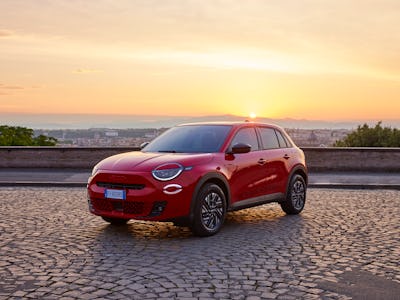 Fiat
If you're sick of oversized electric SUVs, Stellantis has apparently heard your gripes and is here to offer an alternative.
Stellantis' answer to the deluge of large EVs is the Fiat 600e, a recently announced compact SUV that will compete with other small and fairly priced options like the Volvo EX30.
Fiat 600e range and price
And a competitor the Fiat 600e may just be. According to Stellantis, the 600e gets a fairly competitive range of about 248 miles of estimated range on the WLTP combined cycle and will come with a sub-$40,000 price tag.
The 600e's battery capacity is relatively small at 54 kWh, but Stellantis is promising speedy charge times with its 100-kW fast-charger system. According to the automaker, the 600e can go from 0 to 80 percent in about a half hour, or as Stellantis puts it, "about the same time needed to pack your car for a weekend away." I think Stellantis is overestimating my ability to stay on task, but point taken.
Though the 600e is firmly a compact SUV (it's 4.17 meters long), Stellantis is doing its best to balance size and utility. The electric SUV will come with five doors and serviceable 15 liters of internal storage.
This is a compact SUV after all, so acceleration and power aren't exactly top of mind. With an engine output of 115 kW, Stellantis says the Fiat 600e will have a 0-62 mph of about 9 seconds.
It's not all practicality with the 600e. The compact SUV also offers more luxurious flares in the form of perks like "color therapy" — the ability to select 64 different colors of ambient lighting in the car and on the radio. My personal favorite perk, however, is the inclusion of a built-in massage function on the driver's side seat.
Additional perks include a few driver assist features like intelligent speed assist, which reads speed limits, and blind spot detection, which uses ultrasonic sensors to keep track of blind spots and warn you of possible obstacles.
Fiat 600e release date
Stellantis says the 600e will be available to order starting July 5 both and the first units will arrive in Italy by September. Unfortunately for drivers stateside who are somewhat starved for smaller SUVs, it's unclear if the automaker plans to bring the 600e to North America.