How Apple Plans To Make Vision Pro Cheaper: Lose the Goofy EyeSight Feature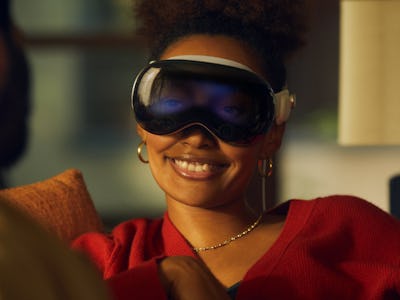 Apple
Impressive as the Apple Vision Pro is, $3,500 is way out of budget for the average person. That's more than double the cost of an iPhone 15 Pro Max and pricier than a MacBook Pro. A more affordable price is a must.
I've been saying it since I tried out the Apple Vision Pro at WWDC in June: get rid of EyeSight, the feature that shows a wearer's eyes on the external display when another person is near them. Even though EyeSight wasn't available for media to look at in person, it's obvious the feature looks goofy as hell and has no benefit to the person wearing the Apple Vision Pro; it's solely for maintaining "presence" with people not wearing the headset.
Now Bloomberg's Mark Gurman is saying Apple might do just that. In his latest PowerOn newsletter, Gurman says a cheaper Vision Pro "will drop outside screen, Mac-grade chip" to get the price down to "$1,500 to $2,500," a range Apple is reportedly considering.
That makes sense. If you think of the screen and M2 chip in the Apple Vision Pro as being like a "Pro" iPhone or iPad, then you're looking at roughly $1,000. Nix the screen and high-end Mac silicon and the cost comes down.
EyeSight Looks Goofy
I don't think a single person watched the WWDC keynote and thought "Wow, EyeSight is a great idea and totally worth $3,500!" There are no press images that have made it look good. It still looks like an April Fools' Day joke gone wrong.
EyeSight looks so silly, it's no wonder there have been no Apple executives photographed with the Vision Pro and their eyes peeking through the exterior screen. It's a meme at this point that Tim Cook has not worn the Vision Pro.
"Your eyes are a critical indicator of connection and emotion," said Alan Dye, vice president of human interface design, during the keynote. "So Vision Pro displays your eyes when someone is nearby. Not only does EyeSight reveal your eyes, it provides important cues to others about what you're focused on."
"EyeSight makes it clear to those around you when you are capturing [a spatial video]," said a presenter in Apple's keynote. Here's the exact moment a "dad" wears a Vision Pro to take a spatial video of his kids.
Not at all a creepy dad moment!
There's a reason eyes displayed on the Vision Pro's outside display don't look right: they're surrounded by a big thick bezel, which means half your face is still covered up.
This is not at all the same as a person holding up an iPad to take a photo. EyeSight is simply cringe and if getting rid of it means a more affordable price, I'm all for it. Better to cut EyeSight than to reduce the resolution of each display or make the hand and eye-tracking poorer.