BMW is Turning Its Sporty X2 SUV Into a Coupe-Like EV
It won't be coming to the U.S., though.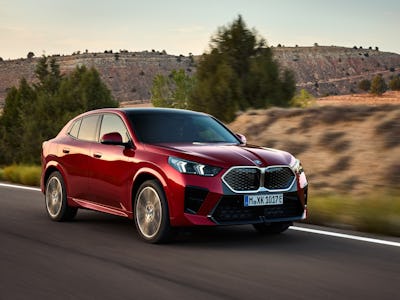 BMW
BMW is already working on a few all-electric SUVs but it's gone sleek and sporty for its latest iX2 SUV. Unlike BMW's other models like the iX or iX5, the German automaker wanted the electrified version of its X2 to set the stage for its Sports Activity Coupe segment.
BMW's Sport Activity Coupe designation is reserved for its SUVs that have a silhouette that resembles a coupe. To that end, the iX2 is a sportier, larger, more refined version of its iX1 sibling. Ignoring BMW's coupe classification, the electric SUV has four doors but was designed for sporty and agile handling while still being comfortable enough for long drives.
SPORTIER AND ROOMIER
With a drive unit each in the front and back axles, the iX2 can put out 313 horsepower and 364 lb-ft of torque, while hitting a top speed of 112 mph and a 0 to 62 mph in 5.6 seconds. Thanks to a 64.8 kWh battery, BMW's adaptive recuperation, and Max Range setting, the sporty SUV has a range of up to 279 miles, according to WLTP tests.
On the outside, BMW toned down the beaver teeth grille into a hexagonal design that's more reminiscent of its iconic kidney grille. The sporty silhouette starts at the LED headlights in the front and stretches all the way back into the subtle spoiler at the back of the iX2.
Inside, BMW expanded the iX2 with more interior space compared to its predecessor by expanding its length. The iX2 also gets more cargo capacity, now hitting up to 1,400 liters of storage at its max. The center console will have a smartphone tray and wireless charging, but the passengers also get access to some upgrades since there's two-zone climate control, four USB-C ports, and 12v power sockets located throughout the interior.
On the software side, BMW added more driver assistance systems into the iX2 that will help with both driving and parking. Features like a front collision warning system, Cruise Control, Speed Limit Info, and Lane Departure Warning will come standard. For optional features, BMW will offer Steering and Lane Control Assistant, Active Cruise Control with a Stop & Go function, Active Navigation, and more.
SUV AFTER SUV
BMW has come a long way since introducing its first all-electric SUV, the iX, back in mid-2021. Now it's working on an iX3 crossover, an entry-level iX1, and experimenting with hydrogen fuel cells with the iX5. Since all those models fall more into the typical SUV category, it makes sense that it would want to add a sportier design to its all-electric lineup.
BMW is launching the iX2 globally in March of next year, with the first model being the iX2 xDrive30 but it isn't coming to the U.S. BMW hasn't said why it's not coming stateside, but is already planning on releasing a second fully electric variant in the summer of 2024 along with several ICE versions. There's no pricing details yet, but the iX2 and its ICE counterparts will be available in two solid and eleven metallic paint finishes.