The 7 Most Futuristic Concept Devices From MWC 2023
Admire some of the cutting-edge tech that made waves at this year's mobile innovation convention.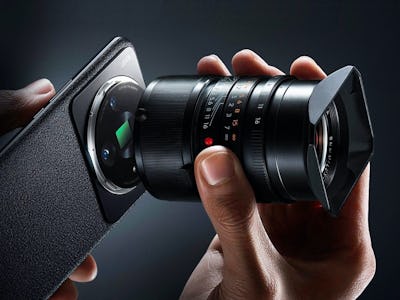 Xiaomi
Mobile World Congress 2023 (or MWC) came and went this year, but it still left us with a fascinating look into the future of mobile innovation. Some of the products announced by companies like Xiaomi, OnePlus, and Lenovo are due to hit the shelves, but the products that are experimental or conceptual in nature point us to the future. Whether that future arrives or not is another question.
Luckily, this MWC didn't fail to provide amazing concepts. We saw rollable laptops, water-cooling for smartphones, and sleek AR headset designs. As a reminder, these are just concepts, but there's always hope that tech companies will incorporate some elements into future products because.
7. Xiaomi/Redmi 300W wired fast charging
Sure 300W fast charging may be a little excessive, but it can charge a 4,100mAh battery from 0 to 100 percent in just under five minutes. Xiaomi and its subsidiary, Redmi, demonstrated this impressive charge time with its Redmi Note 12 Pro+. For reference, the fastest-charging smartphone on the market right now is the Realme GT Neo 5 which supports up to 240W fast charging. Either way, it sure makes us wish that Apple gave put decent fast charging in its iPhones, which only top out at 20W wired charging.
6. OnePlus 11 Concept
OnePlus came to MWC 2023 with a couple of ways to cool off your smartphone during those extended mobile gaming sessions. With the OnePlus 11 Concept, the Active CryoFlux liquid cooling system pulls inspiration from PC gaming where coolant runs through tubes to reduce the device's temperature. OnePlus even designed its conceptual smartphone with a clear glass panel so you can see the liquid cooling at work.
5. Xiaomi 12S Ultra Concept
Apple has been slowly widening its camera bump over the years, but Xiaomi has the guts to throw an entire Leica lens onto its 12S Ultra Concept and showed it off for the first time at MWC 2023. Xiaomi redesigned one of its smartphones with a mount for real camera lenses that slots right over its one-inch sensor. It's a bulky design, but the images you get from it should make up for the inconvenience.
4. Motorola Rizr
Foldables may have been all the craze last year, but rollable devices from Motorola and Lenovo captured everyone's attention at the mobile show. Motorola showed off its rolling display with its Rizr smartphone concept which goes from a five-inch screen to a larger six-inch display when fully rolled out. Even more impressive, the Rizr uses the backside of the rollable display as a second screen when not rolled out.
3. Xiaomi Wireless AR Glass Discovery Edition
These untethered AR glasses are what we had in mind when talking about incorporating mixed reality into everyday life. Xiaomi's AR hardware in the growing space is lightweight, can connect to smart home devices, and has integration for popular apps like TikTok and YouTube. Whether or not it will beat out Apple's postponed AR glasses is another question.
2. Lenovo rollable laptop
Just like the Motorola Rizr, Lenovo — which owns Motorola — is adapting rollable displays into its devices. The laptop rests at a standard 12.7 inches normally, but you can roll it out to hit a 15.3-inch display that's way better for multitasking. We don't know anything about the durability of rollable displays, but they certainly seem worth a shot for a unique form factor.
1. OnePlus 45W Liquid Cooler
OnePlus seems to be on a mission to ensure that smartphones remain cool. This liquid cooler is external and not built into the smartphone, like OnePlus' other concept. Instead, you can strap this onto the back of a OnePlus device to reduce temps by up to 20 degrees. OnePlus is actually going to bring this liquid cooler to market eventually, but didn't share release dates.