10 Products That Every Beginner Vlogger Should Get
Everything you need from a solid camera to versatile accessories.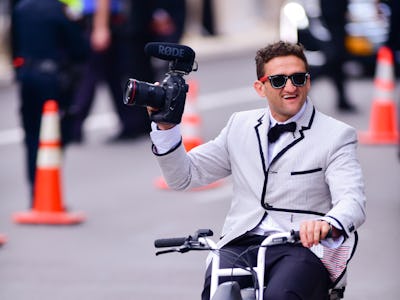 James Devaney/GC Images/Getty Images
We may receive a portion of sales if you purchase a product through a link in this article.
The smartphone in your pocket is the easiest way to start vlogging. Just hit the record button in your camera app. But if you really want to get serious about vlogging and making content, investing in better gear can make all the difference.
A quality camera can get you far superior video quality, especially in low-light shooting situations. And a decent mic will ensure that your viewers don't tune out because you're hurting their ears.
The reality is, there will never be one definitive list for vlogging gear. Everyone has a different budget and different needs. Do you need a camera with 4K or 1080p? Do you need 60 fps recording or a higher frame rate? What about HDR capture? What kind of lighting do you need?
But for beginner vloggers with limited budgets, we think these are the best devices and editing apps to get you started on your content creator journey. You can get the nicer and more expensive gear later when you're raking in the brand deals.
SONY ZV-1 II
Sony recently released a refresh for its compact camera that was purpose-built for vlogging. The ZV-1 II is loaded with AI features to ensure you stay in focus and in the frame. There's even a Cinematic Vlog setting that makes your B-roll look way more dramatic. The ZV-1 II comes with a fixed 18-50mm wide-angle lens which is a good range at arm's length. Most important of all is that there's a screen that flips out so you can see yourself.
FUJIFILM X-S10
What the Sony ZV-1 II lacks, the Fujifilm X-S10 has: an interchangeable lens design. It's not the most feature-packed mirrorless camera, but the X-S10 has earned a reputation as a solid all-around vlogging camera with its 26.1-megapixel sensor that can shoot 4K video at 30 fps or Full HD video at 120 fps. Like the Sony ZV-1 II, it has an eye-tracking feature that will make sure you're in focus.
Canon PowerShot V10
If you're in the market for something even more portable than a mirrorless camera, the PowerShot V10 is an interesting one. It's small enough to fit in your palm but its 1-inch sensor can capture 4K video. Canon's compact camera also has a built-in stand and a tilt-out screen that makes it good for streaming should you ever want to get into that.
INSTA360 GO 3
If you need to go even more compact or lightweight, Insta360's Go 3 is about the size of your thumb and weighs only 35 grams. The tiny action camera can capture wide-angle shots at 2.7K resolution and comes with a handful of accessories that let you wear it as a pendant, clip it to your hat, or pair it with an external case and charger that has a flip-out screen.
LOGITECH G YETI
Before being rebranded under Logitech G, Blue Yeti mics have been the go-to pick for content creators who are just starting out. It's a simple design that's easy to set up and lets you choose between multiple microphone pickup patterns. Even though it retails for $129.99, it's often on sale for around $100.
RODE WIRELESS ME
While the Yeti is ideal for recording voice-overs inside your studio, the Rode Wireless Me is designed for vlogs when you're out and about. The Wireless Me mics have a compact, lightweight design where you clip it to yourself and it'll stay out of the way. The 7-hour battery life should be plenty for a full day of recording outside.
JOBY GORILLAPOD 3K KIT
If you're lugging around a vlogging camera all day, you want something that's ergonomic and will keep your video looking stable. The GorillaPod's flexible design means you can set it up as a tripod or monopod, and even wrap it around whatever you find for a unique angle.
ELGATO RING LIGHT
No vlogging studio is complete without a ring light. Elgato's Ring Light provides exactly what it says: a ring that evenly distributes light across your face. At a maximum of 2,500 lumens, it can brighten even the darkest of studios. The Ring Light even includes a mount to rig up your camera.
DAVINCI RESOLVE
Once you've recorded your vlog footage with your new camera, mic, and lights, you'll need a decent video editor to get it through the door. We're keeping it simple with DaVinci Resolve, a free video editing software that works on both Mac and Windows. If you're running on a Mac, you also have the included option of iMovie, but DaVinci offers a pro version called Resolve Studio.
ADOBE PREMIERE PRO
For a more professional option, get a paid subscription to Adobe Premiere Pro. The editing software works for both Mac and Windows and can handle anything that DaVinci Resolve can't. There's a reason why it's the go-to video editing app for so many professional filmmakers; it's simple enough to pick up for beginner content creators but has an endless amount of features as you level up. Premiere Pro is $20.99 a month, but it knocks any free option out of the water.