Beats' Next Headphones Might Blow AirPods Max Away
The Beats Studio Pro could offer up to 24 hours of listening with ANC on.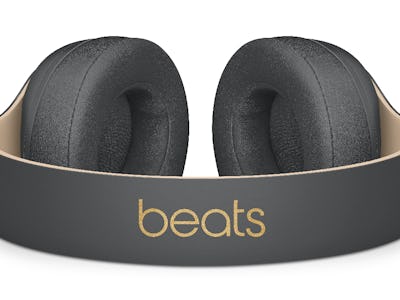 Beats
Apple-owned Beats is readying a direct competitor to AirPods Max, according to 9to5Mac, which obtained a full spec sheet for the upcoming over-ear headphones.
Called Beats Studio Pro, the over-ear active-noise cancellation headphones are said to be better than Apple's $549 cans in every way with longer battery life and personalized spatial audio with head tracking.
Beats Studio Pro are a long time coming; the company hasn't released new over-ear headphones since the Studio 3 in 2017. Even though Beats is known these days more for its wireless earbuds, like the Studio Buds+, the Beats Studio Pro look to bring the brand back to its fashionable headphones roots.
40 HOURS OF LISTENING
According to 9to5Mac's report, the Beats Studio Pro will come with two 40mm drivers for a serious improvement in audio quality and an integrated digital processor that allows for audio optimization. strong active noise cancellation. Other modes include active noise cancellation, transparency, and spatial audio — controlled via a multipurpose side button.
The headphones are also said to have Personalized Spatial Audio with dynamic head tracking, which is currently only available on Apple's AirPods 3, AirPods Pro, and AirPods Max. Better microphones for canceling out background noise ("up to 27 percent better than Beats Studio 3") are also expected.
The standout feature, however, might be its 40 hours of battery life without ANC and transparency turned on. With ANC and transparency turned on, battery life is said to be 24 hours, which would beat out the 20 hours on AirPods Max.
The Beats Studio Pro may even beat out the AirPods Max on charging time with 10 minutes of charging for up to four hours of audio playback.
Even better, the Beats Studio Pro reportedly will come with a USB-C, 3.5 mm headphone jack, and cables for both ports. 9to5Mac's report also claims that the over-ear headphones will use a "custom-designed Beats chip," and not the H2 chip in AirPods Pro 2, which will allow it to better support both Apple and Android devices.
LAUNCHING SOON
Beats hasn't officially announced its upcoming over-ear headphones yet, but 9to5Mac's source says it will launch soon. The report adds that the Beats Studio Pro will come in four colors (black, navy, sandstone, and deep brown) and may have similar pricing to Beats Studio 3 at $349.