Analogue Is Giving Us the 4K N64 We Never Had
The details are sparse, but the idea itself is enough to have us on the edge of our seats.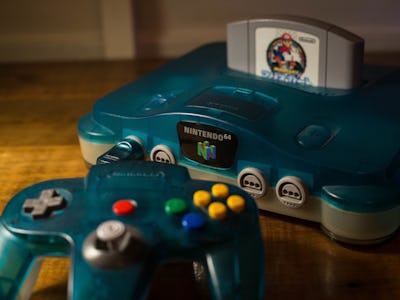 SOPA Images/LightRocket/Getty Images
The iconic Atomic Purple Game Boy isn't the only nostalgic Nintendo product on Analogue's radar.
In a new teaser, Analogue — known for its retro-focused gaming handhelds — has announced the Analogue 3D, an honest-to-God N64 that is capable of delivering games in crisp 4K.
There's not a ton of information on the console, but outside of the 4K aspect, we know that the 3D will not be emulating games (this is a real recreation) and that a release date is pegged for 2024.
Analogue 3D
We did get a very mysterious teaser of what the console will look like, which basically amounts to a cropped picture of its corner. Is that a power button on top? Hard to say, but Analogue has said that the console will use "4 original-style controller ports. Completely engineered in FPGA."
That last part, FPGA, stands for field-programmable gate array — a hardware-level replication — which should make the controllers and hardware function as smooth as the original.
Speaking of controllers, we got a little preview of what its companion hardware will look like. There's no original trident shape, but controllers launching with the console are Bluetooth. They're also made by 8BitDo which has a good track record for making quality (and sometimes funky) gaming hardware.
Inverse Deputy Editor, Raymond Wong, took the liberty of brightening Analogue's very dark controller teaser for a better view. I'm getting a healthy touch of the Nintendo Switch Pro controller.
First-ever N64 recreation
We won't know until we get a chance to play one ourselves, but Analogue appears to have really cracked the code with this one. Unless some unseen competitor swoops in and releases its own product, the Analogue 3D will, as Analogue notes, be "the first and only aftermarket solution supporting 100 [percent] compatibility in every region..."
In plain terms that means anyone in the U.S., Japan, and Europe will be able to pop an original N64 cartridge into one of these bad boys and play the original Super Smash Bros. like it's 1999.
Given Analogue's track record — it offers recreated versions of the Sega Genesis and SNES — it's hard to cast doubt on the Analgoue 3D delivering on its promises. Here's to hoping they make enough for us all to get our hands on an Analogue 3D next year.