This Cheap Dongle Let Me Play Zelda With Xbox and PlayStation Controllers
Best $20 I recently spent.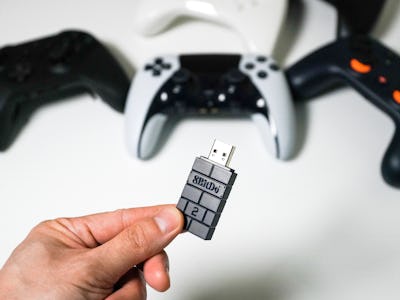 We may receive a portion of sales if you purchase a product through a link in this article.
As my colleague, Inverse senior editor James Pero, once said: A good dongle is hard to find.
Okay, he didn't say that, but he did enjoy the Anker SoundSync dongle that gave his old studio monitors Bluetooth connectivity. I, too, love a good dongle. In my case, it's the 8BitDo USB Wireless Adapter 2. For $20 ($18 when I bought it), this lil' dongle turned my pile of PlayStation, Xbox, Stadia, and Wii U Pro controllers into ones that work with my Nintendo Switch.
It arrived at the same time I was in the process of repairing my Joy-Con to cure my The Legend of Zelda: Tears of the Kingdom FOMO.
It felt sacrilegious to use a DualSense Edge or Xbox One X controller to play Nintendo games, but it also felt so good because of how much better Sony and Microsoft's controllers are compared to the Joy-Cons.
Nintendo will happily sell you a Switch Pro Controller for $70, but why pay extra for a whole new gamepad if, like me, you already own other traditional controllers that can be repurposed? The Wireless Adapter 2 couldn't be simpler to use and takes only a few seconds to set up.
Here's how easy it is. You plug the Wireless Adapter 2 into the USB-A port on your Switch dock. Go into the System Settings and turn on the "Pro Controller Wired Communication" setting. Press the pair button on the Wireless Adapter 2 and then press the respective pairing button(s) on your desired controller and — boom — that's it.
Once you're paired up, any PlayStation or Xbox controller works exactly like it would a Switch Pro Controller. Some features that you get with the Joy-Cons, like the motion controls, might not work if your non-Nintendo controller doesn't have a gyroscope or accelerometer, but rest assured all of the main buttons (A, B, X, Y, L, R, ZL, ZR, sticks, and D-pad) work exactly like they do on a Switch. I can confirm the DualSense and DualSense Edge do support motion controls.
I tried several different Xbox and PlayStation controllers and most of them connected to the Wireless Adapter 2 without issues. Xbox One, Xbox One X, Xbox Elite Wireless Controller Series 2 and DualSense Edge all worked perfectly. So did my old Wii U Pro Controller and Google Stadia gamepad (you gotta convert it into a Bluetooth controller first, which you can do until December 31, 2023). The only controller I couldn't get working was my PS4's DualShock 4 controller; it just wouldn't connect. Even after updating the dongle's firmware to version 1.05, it wouldn't pair. I couldn't find my DualShock 3. Your mileage may vary.
My least favorite part of repurposing my old controllers had nothing to do with the Wireless Adapter 2: charging the controllers. Some use micro-USB and the Wii U Pro Controller uses mini-USB (!!!). I now realize I've taken USB-C for granted. You try digging up a mini-USB cable; I was lucky to find a single one from an old Western Digital hard drive.
8BitDo could have stopped right there and I would have been a very satisfied buyer. But wait, there's more! With its Ultimate Software for Windows and Mac, you can create custom profiles and remap buttons to your heart's content.
I'll be honest, the software can be a little janky and you'll need a USB-A-to-USB-C adapter (not included) if your computer doesn't have a USB-C port. Midway through pairing and unpairing a DualSense Edge, the dialogue box to confirm pairing to an Xbox controller changed from English to Chinese. I have no idea how to revert it back to English. Small quibbles aside, the software works as advertised. One thing to note: there's no support for the extra buttons and paddles on the Xbox Elite and DualSense Edge controllers. Maybe 8BitDo will add support for them in the future, but as of this writing, those buttons aren't remappable. Not a dealbreaker by any means. That there's any customization at all is enough for me.
The 8BitDo does exactly the thing you need it to do. I now have like 10 controllers for my Switch and I cannot wait to invite people over to play four-player Mario Kart 8 Deluxe or Splatoon 3 with Xbox and PlayStation controllers. It's gonna be insanity!
The only downside that I can identify is that dongle doesn't work in tabletop mode (Switch not in its dock), which makes sense because it's connected via the dock's USB port. It doesn't bother me since I rarely use tabletop mode anyway.
I suppose I should say that the Wireless Adapter 2 also works with other consoles and computers including the PlayStation Classic, Sega Genesis Mini, and PC and Mac, as an MFi controller for iOS devices, and Android. The setup process varies for each, but from what I can tell, they're all pretty similar.
If you're looking at the 8BitDo website and wondering what the difference between the Wireless Adapter 2 and Adapter 1 is: just get the Wireless Adapter 2. The Adapter 1 doesn't support Xbox controllers and it's pretty much discontinued at most retailers.
In a way, I'm glad my Joy-Con broke because it led me to the 8BitDo USB Wireless Adapter 2. I wish I had known about it sooner. Also: I think I found the perfect stocking stuffer for all my gamer friends!
This article was originally published on