This Blatant Cybertruck Knockoff Claims to Beat Tesla on Range and Price
The Cybertruck clones are already coming.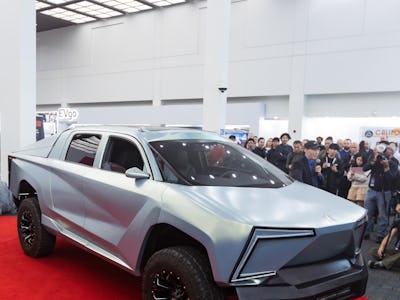 LA Auto Show / Twitter
If imitation is the sincerest form of flattery, then this EV startup is paying a huge compliment to the Cybertruck's controversial design.
At the Los Angeles Auto Show, the bizarrely named Aitekx revealed its Robotruck 1T, which looks like a clear ripoff of Tesla's electric pickup truck. The knockoff Cybertruck may not be as angular as the original, but it's giving us heavy "can I copy your homework, but make it different" vibes.
The Cybertruck is due to start delivering at the end of this month, but a Tesla exec recently hinted that there will only be 10 of the EVs shipped at the November 30 event. That means it'll take a lot longer until we start seeing the Cybertruck and its unique shape flood the streets. We're betting that Aitekx sees an opportunity to swoop in with the expected slow trickle of Cybertruck deliveries.
VAPORWARE OR VALID COMPETITION?
Such a clone from a random brand wouldn't even be notable and it still may just be vaporware. However, Aitekx is claiming the Robotruck 1T has a 550-mile range. That's a decent chunk more than Tesla's purported 500-mile range for the Cybertruck and that's if you choose to believe the EV maker's optimistic range estimates. Unfortunately, Tesla still hasn't released the official specs for the Cybertruck, so we are left in the dark about the exact range despite being less than two weeks away from the first deliveries.
The Robotruck 1T also features a 6.1-foot bed length that's expandable all the way to 11.5 feet if you take down the back seat and open the tailgate. Considering the confusion surrounding the Cybertruck's bed sizing, the concrete numbers from Aitekx help its case a lot. We should note that the Robotruck 1T's sprint from 0 to 60 mph is 3.5 seconds, which is slower than Cybertruck's reported 2.9 seconds. We may be heavily comparing the Robotruck 1T to just the Cybertruck, but it's hard not to when you look at the obvious similarities.
CHEAPER THAN A CYBERTRUCK
If you're ready to trust an EV startup with no track record, Aitekx has made its Robotruck 1T available with $100 refundable reservations that will get you a $5,000 early-bird discount. There are four trims available, including a base RWD model, an AWD option, an RWD single-cab build, and a sporty AWD version. The base RWD model starts at $45,000, again beating out Tesla and its expected $50,000 starting price for the Cybertruck. However, you can also opt for Aitekx's premium option which starts at $99,000.
Aitekx hasn't revealed any details about production, but it says the Robotruck 1T will qualify for federal tax credits. With those savings, you can add on some optional elements, like gullwing doors, off-roading packings, and an AI driving system. Aitekx is aiming for a 2026 production launch for its Robotruck 1T.