At IAC, Pence sets heavy political tone and touts "space force" again
"The space force will be a vanguard to defending our nation."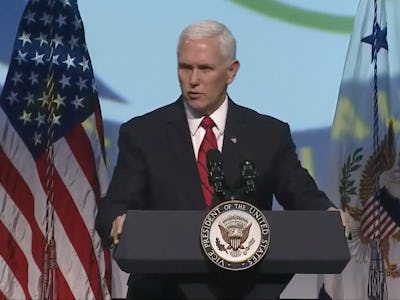 NASA
During the opening ceremony of an international space conference on global cooperation for a future vision of space, United States Vice President Mike Pence made it clear that he would really like to see America taking the lead in space travel and exploration.
"The United States of America will always be willing to work closely with like-minded, freedom-loving nations as we lead mankind into the final frontier," Pence said during the opening remarks at the 70th International Astronautical Congress (IAC) on Monday. "Our vision is to be the leader among freedom-loving nations."
Prior to his opening remarks, a petition went around calling on the organizers of the event to cancel his appearance, with some participants threatening to walk out during his speech in protest of Pence's political and social views.
IAC is an annual conference hosted by the International Astronautical Federation together with the International Academy of Astronautics and the International Institute of Space Law, bringing together scientists, industry experts and space agency leaders to discuss what is happening in space today.
This year's theme is "Space: The Power of The Past, The Promise of The Future," which honors the Apollo 11 crew with the World Space Award, and looks forward towards what's next on the space exploration agenda.
During his speech, Pence gave a nod to the Apollo 11 astronauts, while emphasizing a revival of U.S. leadership in space travel.
"Under President [Donald] Trump's leadership, America is leading in space once again," Pence said. "In our very first year of office, after laying dormant for nearly a quarter of century, President Trump revived the National Space Council."
In June, 2017, Trump signed an executive order to relaunch the National Space Council, which handles issues related to space policy, after it was disbanded in 1993.
The current administration also established a space force, a sixth branch of the armed forces that will train space soldiers, which Pence said will soon be a reality.
"Space plays a critical role in our national security as it does for every nation around the world," Pence said. "And the space force will be a vanguard to defending our nation, defending our freedom, and defending the rights of all freedom-loving nations in the vast expanse of space."
To ensure the U.S. gets a piece of that vast expanse, Trump signed a space policy directive which amended the policies of former President Barack Obama, and called for an American led human mission to the Moon, followed by a mission to Mars, in an effort for long term exploration and possible colonization of the lunar surface.
And yet, it hasn't exactly been smooth sailing between the current US administration and NASA. Two years later, a tweet from Trump dismissed what seemed to be a two-party understanding.
"For all of the money we are spending, NASA should NOT be talking about going to the Moon – We did that 50 years ago," he wrote on June 7, 2019. "They should be focused on the much bigger things we are doing, including Mars (of which the Moon is a part), Defense and Science!"
But NASA's Artemis mission scheduled to take off to the moon in 2024, is still on track.
"We will return American astronauts to the moon for long time exploration and use," Pence said on Monday. "We're going back to the moon, and then to Mars."
The vice president also highlighted the role that private enterprise will play in this future vision for space, adding that NASA is leading a "commercial friendly effort" to develop lunar landers that will carry humans to the moon, as well as orbital platforms to replace the International Space Station.
This Week at IAC
Jeff Bezos, the CEO of Amazon and founder of private space company Blue Origin will receive the Excellence in Industry Award on Tuesday for his contributions to the space industry.
Back in 2016, Founder and CEO of another private space company, Elon Musk, unveiled the spacecraft he plans on using for a future mission to Mars, and possible colonization of the red planet.
Pence also spoke of cooperation with other countries. Well, specifically "freedom-loving" nations such as Japan, Canada, and European allies. "The good news is, with the renewed American leadership in space, we're also seeing renewed cooperation among freedom-loving nations around the world to advance space exploration," he said.
However, Pence left out Russia, with whom the U.S. has been locked in an eternal space race with.
NASA Administrator Jim Bridenstine is scheduled for a press conference on Monday with representatives from space agencies in India, China, Japan and, obviously, Russia.
Bridenstine received a nod from Pence, who thanked him for "the work he is doing to revive American leadership in space."
The IAC will run until Friday, October 25, with a live stream of the events here.