Elon Musk Will Explain How He Wants to Colonize Mars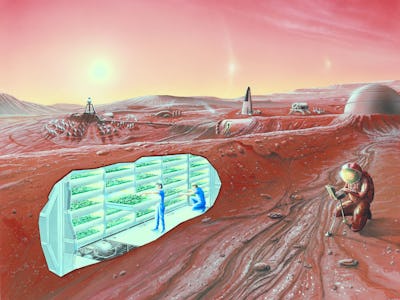 Getty Images / Kevork Djansezian
Elon Musk on Tuesday will finally tell us how SpaceX is going to get us to Mars. Or he'll give a speech, at least, in which the SpaceX CEO will hopefully outline a plan to get humans to the red planet and set up a permanent, sustainable colony.
Musk's calling it "Making Humans a Multiplanetary Species," and the hour-long talk will be delivered as a keynote at the annual International Astronautical Congress, a four-day affair in Guadalajara, Mexico. The anticipated speech will, according to the IAC, cover the challenges — industrial, governmental, and scientific — that face the human race as we endeavor to colonize Mars. Interested? The IAC announced last week that his talk, along with every other session, will be live-streamed for the entire world to watch.
According to the official description, Musk will: "discuss the long-term technical challenges that need to be solved to support the creation of a permanent, self-sustaining human presence on Mars. The technical presentation will focus on potential architectures for colonizing the Red Planet that industry, government and the scientific community can collaborate on in the years ahead."
NASA continues to drive forward the construction and testing of its new Space Launch System rocket, which will power its own Mars mission, starting with uncrewed flights in 2018. One NASA projection has the agency sending humans to Mars's orbit as soon as 2033. Although, there's a good chance that SpaceX could beat NASA to Mars. We'll find out a little more next week from Musk.
SpaceX also plans to send robots to Mars starting in 2018. Musk and co. have positioned themselves as a focal point in the journey to Mars, particularly in the last year as SpaceX has racked up win after win — barring some exceptions — with its Falcon 9 launches.
Nevertheless, there are a lot of unanswered questions surrounding the company's plans for the red planet, especially in the context of recent remarks that the company could have a colony established within the next decade.
The IAC, which is sometimes called "the Olympic Games of Space," is partly a massive networking event for the space science community, facilitating collaborations and partnerships between different entities. It also features a number of lectures on topics ranging from exploration of Pluto and the Kuiper Belt to how space agencies will further the progress of the Paris Agreement. Last year's IAC was held in Jerusalem and drew nearly 2,100 participants.
"Making Humans a Multiplanetary Species" will take place Tuesday, September 27, from 1:30 to 2:30 p.m. Central time. Tune into the live stream here at that time, and be ready for one helluva speech.
SpaceX has set up a live stream feed as well. Watch here: