NASA Thinks It Can Send Humans to Martian Orbit By 2033
Plus, the second test launch for Orion is still targeted for 2023.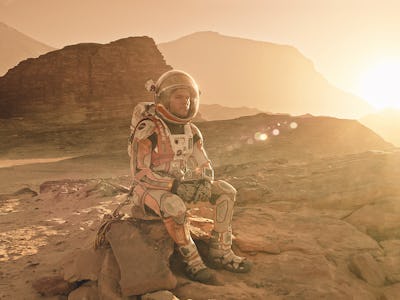 At the NASA Advisory Council Human Exploration and Operations Committee Meeting on Monday, Bill Gerstenmaier, the associate administrator for HEO at the agency, said he believes we could have astronauts make it to Martian orbit — or conduct a short-distance flyby of the red planet — by 2033.
According to current budgets and plans, the projection could be realized, Gerstenmaier said. The larger goal of getting human boots on Mars' surface, however, would require a much more extensive advancement of technology, and would likely occur closer to the end of the 2030s.
"This is an amazing period of time in human spaceflight," he told reporters and NASA internal personnel. Gerstenmaier credits the development of the deep space capsule Orion, the brand-new Space Launch System, and the progress made in commercial crew vehicles that will help forge a bigger and more sustained orbital and cis-lunar presence to making a journey to Mars a more tangible and achievable goal than ever before.
Monday morning's discussions were dominated by updates on the status of Orion and SLS. It hasn't been all sunny skies; there have been several hiccups caused by various delays; the manufacturing and shipping of certain modules here and there. For example, Gerstenmaier reported that the service module for Orion constructed by the European Space Agency, was expected to arrive next January, but it looks like ESA partners won't be ready to get it over the Atlantic until April or a little later.
Bill Hill, deputy associate administrator for Exploration Systems Development at NASA, told the teleconference that the plans for the SLS core stage had to be readjusted, and would be delayed by two months for a new deadline of March 2018. Hill also emphasized that software testing was also a primarily concern for the Orion and SLS teams, and that this was also creating obstacles.
Nevertheless, Hill says Exploration Mission 1 (EM-1), which will be the inaugural launch of SLS and the second uncrewed test flight of Orion is still targeted for launch sometime between September through November of 2018. On that flight, Orion will spend about three weeks in space, including a six-day retrograde orbit around the moon. The follow-up EM-2 mission, which will be crewed and be the first time humans have left low Earth orbit since the last Apollo mission in 1972, is still stated for August 2021.
From a technical perspective, said Hill, NASA is hitting all their requirements: "We're actually doing pretty well on this," he said.
In addition, oversight continues to be a stringent goal for the space agency. Hill highlighted the fact that there are 144 independent assessments for ESD alone. "Obviously, we'll continue to add some" as it becomes necessary, he added.
Gerstenmaier and Hill also provided some updates on how NASA is moving forward with its commercial partners. NASA will be extending its Space Act Agreement (SAA) with Sierra Nevada Corporation to support the landing test for their flagship Dream Chaser vehicle, which will also be used on six resupply missions to the International Space Station between 2019 and 2024. NASA has also entered into a new, unfunded SAA with Blue Origin to support the company's orbital human space transport system.
As the chart below shows, SpaceX could conducted test flight of its Crew Dragon to the ISS by August 2017, while Boeing's CST-100 Starliner, which could also carry people, would have a test flight to the ISS as soon as February 2018.
Overall, if all things go according to plan and we don't witness see NASA's budget experienced a shot to the chest, we could see astronauts make it to Martian orbit in just a generation's time.