Trump Announces Return of National Space Council
by Monica Hunter-Hart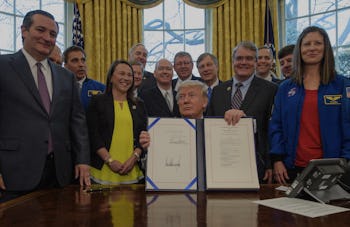 Photo via NASA/Bill Ingalls
President Donald Trump signed the NASA Transition Authorization Act of 2017 on Tuesday, and while many celebrated the fact that NASA's Earth Science division has been spared (for now), Trump avoided that topic in his description of the bill's merits. He was keen to focus on its employment boons, saying repeatedly: "It's about jobs."
The bill increases NASA's budget to $19.5 billion. It will be used, in part, to fund the employment of aerospace engineers to build the fancy vehicles needed to send humans to Mars, a main component of the bill.
Big news came at the end of the signing. Vice President Mike Pence confirmed that Trump will reinstate the long-defunct National Space Council, or NSC (not to be confused with the National Security Council) that President Eisenhower established in 1958. The council was abolished in 1973, though George H.W. Bush oversaw another short-lived iteration from 1989-1993.
Pence will chair the body, in keeping with NSC tradition. That makes him the main intermediary between NASA and the White House. Notably, he doesn't believe in climate change.
This bill is the first of its kind in seven years. President Barack Obama signed a NASA authorization act in 2010 that outlined a broad and similar aim: the "expansion of human space flight beyond the International Space Station and low-Earth orbit."
In a press release, NASA acting administrator Robert Lightfoot celebrated the new act and declared it to mean that "our nation's space program will remain the world's leader in pioneering new frontiers in exploration, innovation, and scientific achievement."