NASA Reveals 3 Lunar Landers That Will Gather Data for a Future Moon Base
There's a lot to do in a short time to meet the 2024 target.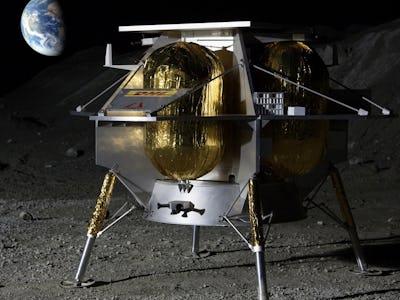 Astrobotic
When NASA announced that it selected three US companies to build lunar landers that could make trips to the moon as early as next year, it also made clear it had bigger goals than just returning to a location we last visited 46 years ago. This time, NASA wants to use the moon to also get to Mars.
The new, ambitious NASA moon program is called Artemis, and it aims to put humans back on the moon in just five years — by 2024 — and establish a sustainable, permanent presence. While it took seven years from John F. Kennedy's announcement to the actual touchdown of Apollo 11, it's safe to say that a moon base is a somewhat loftier goal.
But before any humans return to the lunar surface, scientific instruments and equipment have to be transported to the moon, and that's what these lunar landing craft will be used for, in what's being called the Commercial Lunar Payload Services (CLPS) program.
"What we learn will not only change our view of the universe, but also prepare our human missions to the moon and eventually Mars."
In a statement to the press on Friday, Thomas Zurbuchen, associate administrator of NASA's Science Mission Directorate in Washington, put it like this: "These landers are just the beginning of exciting commercial partnerships that will bring us closer to solving the many scientific mysteries of our moon, our solar system, and beyond. What we learn will not only change our view of the universe, but also prepare our human missions to the moon and eventually Mars."
How will unmanned landers help prepare for human missions? We asked NASA.
"The three landers are carrying instruments that will collect key new data as we prepare to send humans back to the moon. There are Entry, Descent, and Landing instruments that will measure how the engine plume affects the lunar surface, as well as testing new navigational technologies," a NASA spokesperson tells Inverse.
"We will test a new type of solar array on the surface of the moon. Additionally, several science-focused instruments will provide new information on the lunar environment. These include instruments that can measure volatiles, and will provide key information as we plan for future volatile measurements in the polar regions."
"We hope to find ways to harness the water found in the lunar south poles for fuel and sustained human presence. The technology and lessons learned from these next landers and the science we will gather from the payloads will better help us understand the lunar environment and composition, which will pave the way for robotic and human exploration of the moon by 2024."
Two of the three companies selected, New Jersey-based Orbit Beyond and Pittsburgh-based Astrobotic, had experience in the Lunar X Prize competition: a private race to the lunar surface sponsored by Google with a prize of $30 million up for grabs.
Sometimes referred to as Moon 2.0, the original deadline for the contest was the end of 2014, but it was extended a number of times and finally ended in March of last year, with no team able to complete the challenge and the prize going unclaimed. However, the knowledge gained would be invaluable, and that's exactly what NASA is hoping to tap into.
Here's a quick breakdown on the three companies and their initial lunar-landing plans:
Intuitive Machines
Houston-based Intuitive Machines will receive $77 million to deliver up to five NASA payloads to the huge basaltic plain Oceanus Procellarum, an area that the Apollo 12 astronauts also explored a little back in 1969. The equipment will touch down in the summer of 2021, aboard the company's Nova-C lander, which is capable of hauling 220 pounds (100 kilograms) of equipment to the lunar surface. Nova-C utilizes technology NASA developed during Project Morpheus, a planetary-lander initiative that ran from 2010 to early 2015. The core team that was instrumental in the success of the Morpheus lander left government service and founded IM, according to the company.
Astrobotic
Based in Pittsburgh, Astrobotic is constructing a five-engine lander called Peregrine, which will eventually be capable of transporting up to 585 pounds (265 kilograms) to the lunar surface, although its initial flights won't be nearly as heavily laden, according to representatives from the company. Founded in 2008 with the goal of winning the Google Lunar X Prize, Astrobotic is currently charging customers $1.2 million per kilogram (2.2 pounds) to deliver payloads to the lunar surface, according to the company's payload user guide. NASA is not Astrobotic's only customer; more than a dozen other organizations have signed up to put payloads on it's first mission. This new deal is worth $79.5 million. Peregrine will haul as many as 14 NASA payloads to Lacus Mortis, a basaltic plain in the northeastern region of the nearside of the moon.
Orbit Beyond
The New Jersey-based company's $97 million NASA award calls for delivery of up to four payloads to the lava plain Mare Imbrium by September 2020, which is even more ambitious in terms of timetable than Astrobotic or Intuitive Machines. One of Orbit Beyond's partners is India-based Team Indus, which was one of the last five teams remaining in the Google Lunar X Prize, before the competition ended. To accomplish its challenging schedule, the Z-01 lander will be used, which can deliver approximately 90 pounds (40 kilograms) to the lunar surface.
Intuitive Machines and Orbit Beyond plan to launch aboard a SpaceX Falcon 9 rocket, while Astrobotic has not yet selected its launch provider.
Last month, NASA announced it will partner with SpaceX and Blue Origin for development of the manned lunar landing craft, along with nine other aerospace-related companies for different elements of the Artemis program.
There are a lot more contracts to come, for projects including construction of the Gateway lunar orbital outpost and the rockets to support the launches.