Beyond Meat and Impossible Foods Are Taking on These 3 Foods After Burgers
It's not just burgers ripe for disruption.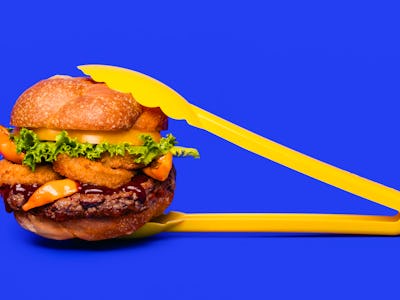 Impossible Burger
Plant-based meat, not content with replacing Burger King burgers, is dreaming bigger. This week, the two biggest names in the sector made steps into new areas to try and get more consumers to ditch meat.
The rapidly-growing industry, which counts Beyond Meat and Impossible Foods as two of its superstars, is expanding its sights and looking to more products to see what it can plantify. Research into American food sales from the pro-plant think tank Good Food Institute last month showed the industry is now worth $800 million and accounts for two percent of packaged meat sales. Amid these warm projections, Beyond Meat's stock price has skyrocketed since its May initial public offering, and Burger King is expected to roll out an Impossible-packed Whopper across the United States after a successful trial run.
The concept involves using plant matter to recreate the tastes of meat. Beyond Meat, for example, touts its "marbling" effect to simulate the feel of fat in the mouth. The sector is expected to account for 25 percent of the value of global meat consumption by 2040, with conventional meat on 40 percent and lab-grown meat created with stem cells reaching 35 percent.
That could mean big changes for the environment and agriculture as a whole. Around 80 percent of farmland is dedicated to animals, despite only accounting for 18 percent of calories in food. Joseph Poore, lead author of the University of Oxford study, stated in May 2018 that going vegan has an effect on the environment "far bigger than cutting down on your flights or buying an electric car."
Plant-based meats could help spur a reduction in meat consumption. To reach those dizzying figures for market penetration, plant-based firms can't just focus on burgers. Other than burgers, Beyond Meat also offers ground beef for making meatballs and the like, sausage in both bratwurst and Italian styles, and beef crumbles ideal for dishes like tacos. Impossible Foods lists tacos, empanadas, pizza, chili cheese fries, meatballs and breakfast sandwiches among its roster.
Here's where the concept is about to go from here.
3. Bao
Feel like a steamed dumpling? Impossible Foods announced on July 30 plans to work with Wow Bao, a Chicago-founded casual Asian chain of restaurants. The Spicy Mongolian meatless bao uses the Impossible Foods beef protein mixed with ginger, garlic and red chili. It comes with no cholesterol and is also available as an option for the firm's rice and noodle bowls. The new buns went on sale August 5.
Asian food could prove a lucrative area for meat substitutes. Impossible Foods' senior vice president for international Nick Halla said in an interview last month that Asia is "by far the number one focus for us." During Beyond Meat's June earnings call, its chief financial officer Mark Nelson stated the continent "has a desperate need for this."
The reasons for this are twofold. The first is that Asia is a big meat market, accounting for 46 percent of overall meat consumption — although it should be noted that Asia is also home to 60 percent of the world's population, meaning meat consumption rates are pretty reasonable as a proportion.
The other aspect is Asia's plant-based meat market is ripe for big changes. During the Beyond Meat earnings call, Nelson claimed Europe has a comparatively "well-developed market" for plant-based proteins, which by implication makes expansion less lucrative. Allied Market Research found in 2016 that North America and Europe are the biggest consumers of meat alternatives, but it's Asia-Pacific that's emerging as the fastest-growing market.
The Wow Bao partnership expands on previous work with Hong Kong-based chef May Chow, who in April 2018 demonstrated a bao infused with black pepper teriyaki sauce, fermented tofu sauce and salted lemon kombu salad. Another dish, Xinjiang hot pockets, substituted the traditional beef used in the northern Chinese dish for Impossible "meat" mixed with local spices and pickled daikon.
The humble bao could lay the groundwork for plant-based foods' next phase.
2. Sandwich
Beyond Meat is coming to Subway. On August 7, the sandwich chain announced plans to roll out a Beyond Meatball Marinara sub, premiering Beyond Meat's specially-made meatballs in a sub with Provolone cheese, marinara sauce and Parmesan cheese. Similar to the Impossible Whopper that initially saw a limited rollout, the sub will be available in 685 restaurants in the United States and Canada for a limited time from September.
Similar to the Burger King partnership, the fast food focus could push meat eaters to reconsider adding meat to their diet. Subway cited NPD Group research, which claims that 70 percent of meat eaters substitute a non-meat protein in their meal once a week at least.
Those meat eaters, which are interested in trying non-meat products but aren't willing to change their diet and make a complete switch, appear to make up the biggest source of consumers for these firms. The same survey revealed that a staggering 95 percent of plant-based meat buyers had bought a beef burger in the past year.
If the goal is to get meat eaters to reduce their intake, that omnivorous diet could come from fast food initiatives like these.
3. Fish
Recreating the taste of the ocean-bound creatures could break plant-based food into new territories. Global seafood consumption has jumped twofold over the past 50 years, reaching 44 pounds per person per year in 2014. But producing fish-tasting plant matter will be tricky, owing to the variety and subtlety of flavors involved.
"Fish come in such a variety of delicate flavors and textures, and to be able to mimic a variety of fish and then even cross into seafood … that's really important to be able to kind of move across species and not be sort-of a one-trick pony in this space," said Lauren Jupiter, managing partner at food and beverage industry venture capital firm AccelFoods, told CNBC in a Tuesday story.
Impossible Foods is taking on the challenge. In June, the New York Times reports that the firm created an anchovy-tasting broth that could be used for paella. The dish used the heme molecule, the same one used in its other meat formulas to recreate the "bleeding" sensation of burgers.
The company has a stated goal of recreating every animal-based product by 2035, so while it may prove a challenge, the end result could be a complete lineup of alternative dishes.
Update 8/12 9 a.m. Eastern time: An earlier version of this article stated that the Impossible Bao is gluten free. It has now been corrected.