iOS 13 Is Going to Be Loved: 5 of the Most Exciting iPhone Upgrades
There's a lot more to iOS 13 than Dark Mode.
by James Dennin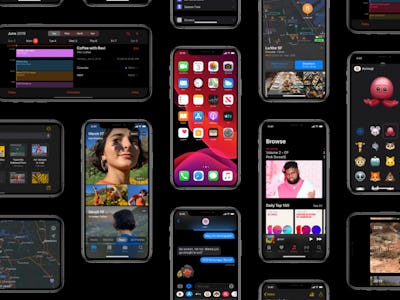 Apple 
Apple debuted its next iPhone operating system on Monday during the annual "Worldwide Developers Conference" at the San Jose McEnery Convention Center, and the forthcoming iOS 13 is going to be something that most users love: It's packed with features we've been asking about for months, and in some cases, years.
As he introduced iOS 13, SVP of software engineering Craig Federighi emphasized iOS 13's performance improvements and its new Dark Mode, the expected — but long-desired — system-wide re-skinning that allows you to toggle all of the iPhone's Apps into a darker color scheme that's far easier on the eyes.
"You'll see that your downloads are 50 percent smaller, and updates 60 percent smaller, but what's really incredible is the effect this has on launch speed — it's up to twice as fast," Federighi gushed. "We were able to do this in a release packed with new features."
While it was the change that kicked the keynote off, the largely cosmetic Dark Mode change is relatively modest next to some of the other improvements that Apple has planned for its new operating system.
Here are the boldest upgrades that come with iOS 13 that may have flown under the radar during Monday's debut presentation. If these look great to you, expect them to arrive when iOS 13 goes public in September (iOS 12 went live on September 17, 2018).
5. Apple Will Kill Third-Party App Tracking 💀
It's bad news for Google and Facebook, which scrape your data to sell ads back to you. The most meaningful change in iOS 13 pertains to privacy, which has long been a differentiator for Apple, and one it has emphasized lately, as scandal has engulfed Facebook, and to a lesser extent, Google. But both of the Apple competitors make money by collecting data. This move cuts off the data supply flow.
A new API allows programmers to enable users to log into their Apps using a new feature called "Sign In With Apple." For users with a device with Face ID, this means that you'll be able to access third-party services using facial recognition, which would in effect protect a great deal of personal information.
To drive the point home, Federighi clicked through a slide that shows all of the information third parties collect from Facebook or Google (see above) when you use their credentials to log into something, information which can include everything from your full name to details like events you attended or locations you visited. Sign In With Apple will also generate a customized email for each App, which will then forward to your real one, making it possible for you to control when third parties are allowed to contact you and making you less vulnerable to hacks.
Apple also introduced some other notable privacy enhancements, including integrating some hardware like wifi routers and home security cameras into HomeKit so that your personal information can't be compromised and accessed remotely.
4. A Voice Assistant That Actually Works 🗣️
Despite the ubiquity of the iPhone, Apple lags behind its competitors in terms of voice assistants and their capabilities. Siri has been criticized for poor language processing, and being less adept than alternatives like Google Assistant at stringing together demands.
To address this problem, iOS 12 introduced Shortcuts, which allowed people to create customized commands. This enabled some pretty nifty combinations, including a clever "sexy time" mode, which dimmed a user's smart lights, turned on Do Not Disturb, and began playing romantic music all through a single command. Developers loved the feature, but this level of customization may have been a bit much for more casual iPhone users, so Shortcuts will now come with suggested automations based on your behavior.
3. Apple Maps Gets Fun
Apple Maps was almost something of a farce, whose shortcomings were so widely known that it became the grounds for a bit on HBO's Silicon Valley. Last year, the company announced that it would be overhauling Apple Maps from top-to-bottom, and starting with iOS 13, users will start to see some of the results.
In addition to simply making Apple Maps a better map — Apple says it logged some 4 million miles by road and air to improve the map at the core of the product — it also introduced some really fun features that you can't yet get with Google Maps. In particular, Apple touted an answer to Google's Street View, which appears to enable users to seamlessly move up and down a block without having to go back-and-forth between the maps view. You'll also be able to save and share locations, to make it easier to build itineraries or plan vacations with friends and family.
2. Next-Gen Image Editing on Video
Apple is also beefing up its image editing features, another area where it's lost some ground in the face of competitors like Google. Unlike the Pixel line, which mostly uses A.I. to touch photos up automatically, Apple's making it much easier to do more high-level image editing straight on your iPhone. It's also adding some new editing features, like bars to adjust vibrance or add definition to a picture, and you'll be able to access all of these features when editing video.
1. Animoji Become Avatars
One of the most jarring moments of the presentation was when Apple pivoted from the serious topic of privacy to an ostensibly frivolous feature, Apple's Animoji. But the changes to Animoji were actually pretty comprehensive, leaving the impression that Apple has some pretty big plans for the feature.
For one, more iPhones are going to get Animoji, which will become available on all iPhones with an A9 series chip or higher, the chip that was first introduced on the iPhone 6 (not all smartphones will be able to run facial tracking, though). Animoji will also get highly customizable, letting people tweak to suit their hair style, makeup, piercings, and other features. You will also be able to link your Animoji to your iMessage, so that your customized image appears in people's contacts once you've sent them a message.
These all take Animoji a big step forward from a messaging novelty to something closer to an avatar. 
Given that that 2019 is another transitional year for Apple, iOS 13 was able to roll out a lot of new features that weren't necessarily expected. Federighi even briefly touted some last-minute features that didn't get any stage time or a demo, including a new feature to try and identify spam calls and route them directly to voicemail.
To be among the first people to try these features out for yourself, you have a few weeks to sign up for access to the $99 developer beta, which will become available this week. Or, you can wait for the first public betas to become available, likely later this month or during the first few weeks of July. Public beta for iOS 12 began on June 25, 2018.