A Volatile Stock Market Might Renew Interest in Bitcoin in 2018
The "what-have-you-done-for-me-lately stock market" could steady Bitcoin values.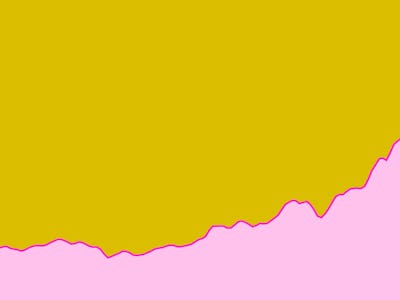 Bitcoin is slowly recovering, and it could go further if the stock markets are any indication. The world's largest cryptocurrency rose 1 percent in the space of 24 hours to $6,915 on Wednesday — hardly earth-shattering, but it could go higher in coming months.
Trevor Gerszt, CEO of crypto investment service Coin IRA, sees investors moving to cryptocurrency if other markets look less stable, like they do now. It's been described as the "what-have-you-done-for-me-lately stock market" in none other than the Wall Street Journal this week, which could be a good thing for Bitcoin, Gerstz tells Inverse. "We expect things to turn around for Bitcoin in the long term, although right now markets across all sectors are a bit nervous," Gerstz says. "Right now everyone is waiting with bated breath to see what stock markets will do and what direction stocks will take before they commit to any major moves. If stock markets remain volatile and continue to trend downward this year, we fully expect Bitcoin to move upward, as it remains a strong alternative investment asset for those who maintain a pessimistic outlook about the health of financial markets."
Bitcoin has been on a gradual decline for the past three months. After reaching nearly $20,000 in mid-December, the coin slid in January as "altcoins" like Ethereum and Ripple surged in value. Those coins have also slid, and the total cryptocurrency market cap of $270 billion is a far cry from its January 7 peak of $824 billion. Edward Cooper, head of mobile at digital banking firm Revolut, told Inverse last month that the decline is part of a "natural cooling-off period."
Gerstz isn't the only one predicting a potential boom. Zhuling Chen, co-founder of blockchain network Aelf, told Inverse on Wednesday that South Korea could form part of a new boom as the market begins to self-regulate, while Paxful co-founder Ray Youssef has said that Bitcoin exchange in Africa is "absolutely massive" and conditions are ideal in Nigeria for further expansion.
What this means for Bitcoin's value is less clear. Cryptocurrency analyst Julian Hosp claimed the coin could reach both $60,000 as well as $5,000. David Drake, chairman and founder of investment firm LDJ Capital, predicted last month that the coin could reach $30,000 this year. John McAfee has continued to promise he will "eat my dick" if Bitcoin doesn't reach $1 million by 2020.
A number of factors suggest 2018 could be another big year for Bitcoin, but whether it draws in the interest it saw last fall remains to be seen.