Expert Reveals Why South Korea Could Be on Verge of Cryptocurrency Boom
Zhuling Chen sees something big coming.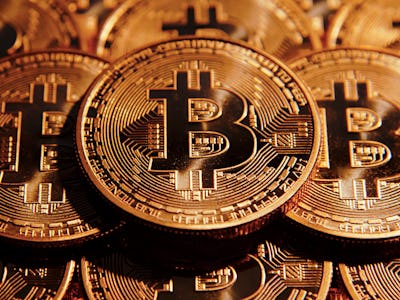 Bitcoin
South Korea could be on the verge of a big turnaround in the cryptocurrency space, as the dust settles from exchange regulations introduced earlier this year and newfound confidence leads to "altcoins" joining the market. While the country's crypto drive led to premium prices for bitcoin last year, trading volume has dipped significantly, coinciding with a global cryptocurrency market cap slide from $734 billion three months ago to just $364 billion today.
"We're not trading experts; we're more about tech-focused companies, so we can't really do a prediction here, but based on what we see in the market here is some of the exchanges starting to release new tokens, so that's a sign of re-opening up, and also the self-regulatory body around the largest exchanges worked out pretty well," Zhuling Chen, co-founder of blockchain network Aelf, tells Inverse. "A lot of exciting projects are coming up … those are definitely good signs that the momentum is coming back."
The country has cooled off from its December peaks when bitcoin traded at a 23 percent premium in South Korea and one-fifth of bitcoin trades used the Korean won. Cryptocurrency trade volume is just 5 percent of its peak from last year, but it remains the third-largest market in the space. Bitcoin has proven susceptible to dips based on South Korea's movements, suffering a near 12 percent drop in value after Park Sang-ki, the government justice minister, suggested a full ban on trades.
Pushed by China's crackdown on cryptocurrency in September 2017, the four largest exchanges in South Korea joined a number of other exchanges to found the Korean Blockchain Association, aimed at self-regulation. The government brought in a series of new rules in January that mandates exchanges to use bank accounts linked to a real name with identification, but beyond anti-money laundering measures, there has been little sign of China-level action. The association announced on Thursday that its 23 exchanges would soon launch a self-regulatory review.
Markets are now "re-opening, led by the blockchain associations" as they allow new cryptocurrencies and accounts, Aelf head of operations JB Lee tells Inverse. This is thanks to the success of the association inspiring the government to "not [take] an extreme measure like the Chinese government."
Bitcoin needs all the help it can get if it wants to return to its December highs of nearly $20,000. The price of one bitcoin was less than $7,000 on Tuesday.