Expert Tells Us Why Ethereum's Price Has Been Declining for 3 Months
It's all to do with the fundamentals.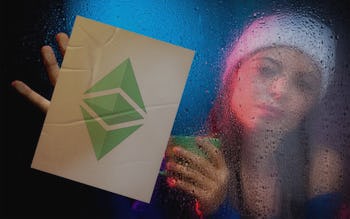 Flickr / EthereumClassic
Ethereum's price rose by one percent to $465.44 on Wednesday, but the cryptocurrency is still in the midst of a three-month gradual decline. The second-largest cryptocurrency, with a market cap of $45.8 billion, has dropped considerably from its all-time high on January 13 of $1,432. But while the token has been under pressure from crackdowns, it's possibly part of a natural cooling off.
"It's a natural cooling off period following an unprecedented bull run towards the latter part of 2017," Edward Cooper, head of mobile at digital banking firm Revolut, tells Inverse. "This run-up was fueled by speculation rather than technological advances, and so many people entered the space drawn by the price headlines only. We are now seeing a return to more normal trading where the price consolidates, and any increases are driven by technological advances and increased adoption rather than the news cycle."
Ethereum was whipped up in a frenzy of cryptocurrency hype at the start of the year. After bitcoin rose to break the $19,000 mark in mid-December, alternative tokens followed on to reap their own rewards. Ripple achieved a staggering $148.7 billion market cap on January 4, only to crash to $40.5 billion two weeks later. Bitcoin Cash, Tron, and others were also swept up in a rush as investors chased the next big surge.
Ethereum began to drop from its peaks as news articles filtered through on initial coin offerings. Startups fund projects using the ERC20 standard built on top of the Ethereum network, enticing early adopters to fund their projects. Google, Facebook, and Twitter have announced crackdowns on advertising these ventures over the past three months. Facebook's decision on January 30 preceded a significant dip that only started recovering a week later following wider dips in the crypto and stock markets.
"It is obvious that people are losing faith in crypto recovery tale and start taking money from the market," financial markets writer Tanya Abrosimova wrote in a Wednesday story on FXStreet. "ETH is the smart contract currency that is used in ICO projects, targeted by both regulators and media giants. It makes the coin especially sensitive to the news about advertising bans and regulatory crackdowns in Initial Coin Offerings."
It hasn't all been bad news for Ethereum. CryptoKitties, which uses the ERC721 standard to offer collectible virtual cats on the network, spun off from its developer last week after an Andreessen Horowitz-backed funding round raised $12 million. Major exchange Coinbase also announced this week that support for ERC20 was coming in the future. Neither of these had a significant effect on the token's price, suggesting the cost will indeed move further based on actual use and advancements than future promises.
Where Ethereum goes from here is unclear. Cooper notes that the same January cycle of hype and crash happened in 2011 and 2013. These cycles can have long-lasting effects on price: This time last year, Ethereum tokens traded at around one-tenth of today's price at just $51. This time next year, advancements in uses for Ethereum's smart contracts technology could enable usage to skyrocket.