Ethereum is Dropping, but Coinbase Reveal Could Change Fortunes
The exchange is exploring an expansion.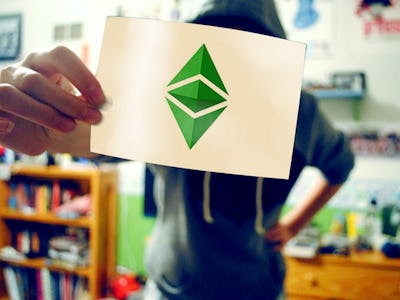 Flickr / EthereumClassic
Ethereum is not having a good week, but a big Coinbase reveal signals promising future support for the second-largest cryptocurrency. The price of one token reached $457 on Tuesday, over 10 percent down from its price the previous day and a severe drop from last week's peak of $590.
The dip comes as exchange platform Coinbase announced support for the ERC20 token on Monday evening. These run on the Ethereum network and power a wide range of initial coin offerings used to fund ideas that run on blockchain technology like EOS and CryptoHunt. Ethereum's price has taken a beating since its January high of $1,426 as Google, Twitter, and Facebook all crack down on initial coin offering ads. Coinbase plans to add support for the ERC20 technical standard in the coming months, but there's no word on which assets will be supported. The company offers a number of products, and assets will only arrive on the app after they've debuted on the company's GDAX professional exchange and they've passed assessments like price stability.
The price of Ethereum did not appear to react to Coinbase's announcement, despite the fact the ERC20 tokens are one of the most high-profile uses of the network. Coinbase's reluctance to offer firmer details may have dampened the news among investors. The exchange will be treading carefully to avoid a Bitcoin Cash-style controversy, where GDAX halted trades just two minutes after going live due to significant volatility and the company announcement of an investigation into potential policy violations.
Ethereum's dip comes as part of a wider sell-off in the cryptocurrency market, where 90 of the 100 largest tokens saw drops over the past 24 hours. Bitcoin, the largest token with a market cap of $135 billion to Ethereum's $46 billion, saw a drop of nearly four percent over the time period. Experts have predicted that the token's drop to $8,000 could come before a rally over the coming year.
Expanding to ERC20 could enable Coinbase users to invest in rapidly growing startups, which in turn could boost confidence in Ethereum's long-term potential. Coinbase support has a strong effect on chosen tokens: When the company denied plans to support Ripple in January, it sent prices dropping by 20 percent.
In the short term, consensus among analysts suggests that Ethereum's current price has dropped below critical support. The big question is whether it can reverse fortunes and break past the $500 mark.