Here's When You Will Be Able to Buy Bitcoin Cash on Coinbase
The alternative cryptocurrency is nearly here.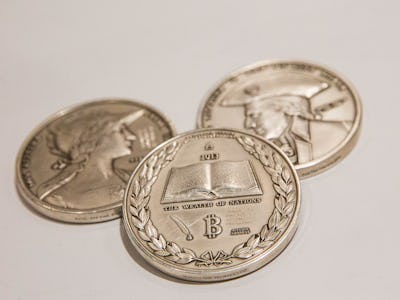 Getty Images / Andrew Burton
Bitcoin cash could dethrone bitcoin as the dominant cryptocurrency, just as long as it can actually start trading on one of the most popular exchanges. Coinbase announced support for the token on Tuesday, but while customers can hold the cryptocurrency in their wallet, it's still not possible to buy and sell.
"My information from sources is they are still evaluating, but they are looking to list it as soon as possible," Karthik Iyer, India's ambassador to the P2P Foundation that hosted the first Bitcoin white paper, tells Inverse.
Bitcoin cash tries to solve the issue of slow transaction times, with the bitcoin network processing just seven transactions per second (major credit cards can process over 50,000 per second). Bitcoin cash, which split off from bitcoin in August, aims to speed things up by expanding the block size from one megabyte to eight, which means miners process more transaction data with each block. The new player in town will have to act fast if it wants to capitalize on users' frustration, as the bitcoin community is working on changes like the Lightning network that could solve the problem.
Coinbase will want to avoid a repeat of its initial launch of bitcoin cash. When it first launched on both its consumer-facing Coinbase platforms and the GDAX professional platform, the price jumped immediately from the $3,500 range to around $8,500. GDAX halted trades just two minutes after going live, at 5:22 p.m. Pacific time, citing "significant volatility."
Coinbase's most recent update on the situation, posted at 8:15 p.m. Pacific time on Tuesday, says:
Bitcoin Cash sends and receives are functional. Buys and sells on the Coinbase website and in our mobile apps will be available to all customers once there is sufficient liquidity on GDAX. We anticipate that this will happen tomorrow.
"Tomorrow" came and went, and bitcoin cash buys and sells are still unavailable.
When Coinbase says it's looking for "sufficient liquidity," it's looking to ensure that an asset like bitcoin cash can be easily be transferred into fiat currencies like the dollar. At the time of writing, GDAX is operating in post-only mode for bitcoin cash trades into bitcoin and euro, meaning trades won't go through immediately. Bitcoin cash trades into dollars are live, but GDAX will pause if the price gets too volatile.
The race is on to get bitcoin cash trading on Coinbase. Its proponents will want to see the cryptocurrency start trading on a major exchange, in the hope that it will encourage adoption and dethrone bitcoin as the number one token.
"The battle between bitcoin and bitcoin cash is on," Iyer says.
Inverse has reached out to Coinbase for an update on the situation.
If you liked this article, check out this video about Finland's new basic income experiment.