Ripple Tanks 20 Percent After Coinbase Denies Plans to Add Cryptocurrency
A sliver of bad news in an otherwise great week for Ripple.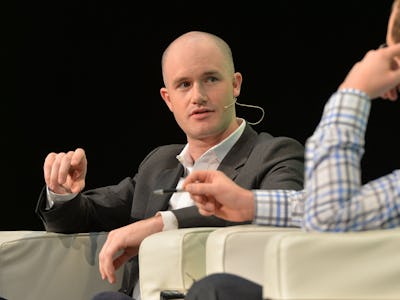 Getty Images / Anthony Harvey
Ripple's waves may have come to an abrupt halt. Coinbase, the cryptocurrency exchange service with more than $50 billion traded and more than 10 million users, has poured water over rumors that it's about to add Ripple to its service. The news hit the cryptocurrency hard, with its token value dropping almost 20 percent following the news.
Rumors circling earlier this week suggested that Coinbase was about to roll out support for more cryptocurrencies. At the moment, the service offers four tokens: Bitcoin, Bitcoin Cash, Ethereum, and Litecoin.
The company clearly stated in its most recent update, posted on Thursday:
As of the date of this statement, we have made no decision to add additional assets to either GDAX or Coinbase. Any statement to the contrary is untrue and not authorized by the company.
You May Also Like: Ripple vs. Bitcoin: The 5 Biggest Differences Between the Cryptocurrencies
The company drew attention to its Digital Asset Framework, which determines whether to support a new asset. A committee of internal experts meets to decide whether a cryptocurrency meets a long and complex list of checkboxes, like a decentralized financial structure and a clear roadmap. It seems the committee has yet to give the thumbs-up that Ripple has satisfied these conditions.
It's a sliver of bad news in an otherwise incredible week for Ripple. The token's price has moved from strength to strength, from $0.26 per token on December 2, 2017, up to $3.02 on January 5. The day's figure represents a 17 percent drop compared to January 4's all-time high of $3.89 per XRP token.
The Ripple cryptocurrency's total market cap is now valued at $117 billion, pushing Ethereum into third place with its $96 billion valuation. Ripple has even been gaining on Bitcoin, though it's still comfortably ahead at $282 billion. In total, the market is worth a staggering $766 billion, with juggernaut Bitcoin accounting for 36.9 percent of its total value.
Coinbase support could have still meant further big gains for Ripple's value. When the service rolled out Bitcoin Cash support late last year, the price almost immediately surged from $3,500 to a staggering $8,500. GDAX, the professional exchange run by Coinbase, halted trades just two minutes after going live, which was officially attributed to the volatile price.
In many ways, though, it's to be expected. Coinbase has been reluctant to open up its services to so-called "altcoins," and CEO Brian Armstrong has previously held the line that these alternatives are a "distraction" for Bitcoin.
Ripple still has plenty to be excited about, though. Its focus on business transactions is paying off, with over 100 industry customers and over 75 deploying commercially. Big names like American Express, UBS, and Santander have pledged their support, and three major Japanese credit card companies have also expressed interest in rolling out support.
Although Coinbase is out of the picture for now, there's still a number of other ways to buy Ripple's XRP tokens.