Ripple and Bitcoin, Watch Out: Ethereum Price Passes $1,000 for First Time
The competition for hottest cryptocurrency isn't over yet.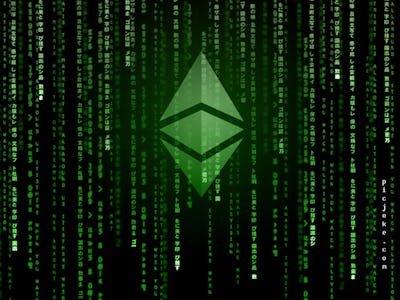 Flickr / EthereumClassic
Just when it appeared the latest cryptocurrency surges were set to leave Ethereum behind as upstarts like Ripple overtook it, the coin made history Thursday as it hit a new all-time high, becoming the latest coin to pass $1,000 in value.
Before Ripple's remarkable rise that began last month and has shown no signs of slowing, Ethereum was the longtime top alternative to bitcoin on the cryptocurrency market. The value of ether reached its highest value of $1,045.08 at around 10 a.m. Eastern time Thursday morning and is at about $981 as of this writing.
This raises the total market capitalization of Ethereum to $95 billion, behind only bitcoin's $258 billion and Ripple's $127 billion. A subsequent jump in value could be enough to push Ethereum over the $100 billion benchmark.
Ethereum's most recent increase may simply be indicative of the larger interest in bitcoin alternatives, or altcoins, as investors looking to repeat the massive gains seen by bitcoin over the course of 2017 have turned their attention to other potential bets.
While Ripple has been the big success story of 2018's first week, others like Stellar have also emerged as intriguing candidates, and this latest jump suggests ether could have room to grow as well.
The coin's value may also have benefited from Tuesday's announcement from Ethereum creator Vitalik Buterin, who revealed the foundation that oversees the coin's operations will invest in initiatives to help scale up the size of the network. The interest in cryptocurrency is so high at present that the mere promise of future growth could be enough to trigger a spike in value.
As previously explained, Ethereum is best thought of as a software platform, in which decentralized apps use the blockchain to undertake transactions.
Ethereum can run what are called "smart contracts," which are best thought of as simple instructions that can move the "ether" cryptocurrency around. It's a bit like an instruction to the bank, except it's instant and handled by computers.
This allows for ambitious sets of instructions. For instance, insurance firm AXA has experimented with smart contracts that trigger a payment request if a flight is delayed by two or more hours, and Ethereum has also partnered with major financial institutions like UBS and Barclays.