What's Next for the Flagging Bitcoin Cryptocurrency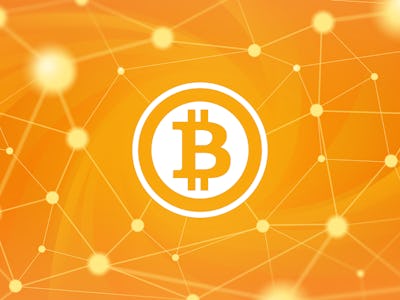 Flickr / PerfectHue
Things aren't looking so great for bitcoin right now. The world's largest cryptocurrency has suffered major losses over the past week, with several commentators pointing to the similarities between the current price chart and the end of a bubble in value.
Last year looked so promising for Bitcoin. Starting 2017 just shy of the $1,000 mark, Bitcoin picked up momentum and reached $19,753 on December 17. Over the past week, Bitcoin's gradual depreciation accelerated, dropping from $14,984 to $9,402 to shed 37 percent of its value in just seven days.
"So Bitcoin just lost half its value," said economist Paul Krugman on his Twitter page Wednesday. "Where does it now stand relative to fundamentals? Hard to say, because there aren't any fundamentals. More than ever, this looks like a pure bubble."
Krugman's not alone in this assessment. On Twitter, a number of people have shared an image of Bitcoin's price trajectory overlayed with that of a typical bubble, suggesting things are about to get a lot worse:
Not everyone sees this as the end for Bitcoin's run. Kay Van-Petersen, a Saxo Bank analyst that predicted last year's rallying price, told CNBC that prices could reach $50,000 to $100,000 in 2018. The recent drop is part of Bitcoin's pattern of trading at one level for a while before pushing higher.
"I wouldn't be surprised if it's something we are seeing," Van-Petersen said. "It's kind of building a foundation, then will re-rate a bit higher."
Bitcoin's current drop is part of a wider market trend that has seen severe losses for many cryptocurrencies. On Wednesday, 93 of the 100 largest tokens lost value over the space of 24 hours, with Ardor as the worst performer at 28.56 percent losses. The previous day, 98 out of 100 tokens reported losses, with SmartCash as the worst performer losing 39 percent value.
However, even if a drop in the cryptocurrency market means the loss of certain tokens, it won't necessarily undermine the case for Bitcoin's technologies. First outlined in Satoshi Nakamoto's 2008 white paper, pioneering ideas like the blockchain ledger have allowed for a number of applications like the Everipedia decentralized encyclopedia and Estonia's proposed identification system.
"Even though the dot com bubble burst, the internet didn't go away," cryptocurrency expert Amanda B. Johnson tells Inverse. "The internet is more integral to our lives than ever. What a bubble bursting would look more like is what economists call consolidation."
Whether that spells the end of Bitcoin's dominance is another story. Perhaps more important is the performance of alternative tokens like Ethereum, Bitcoin Cash and Ripple. The rise of these tokens have done more to dent Bitcoin's overall share than the price itself. At its December peak, Bitcoin accounted for 52 percent of the total market value, a decline from the start of 2017 where it accounted for 88 percent of the market's value, despite the token only being worth shy of $1,000. Today, Bitcoin accounts for 37 percent of the market, the same as it did in June 2017 when a rising Ethereum took away market share.
It's an obvious statement, but if Bitcoin loses its status as largest cryptocurrency, it will be because something bigger came along to take its place. It's the open source nature of the technology: people will adapt it, choose to invest in whatever they feel is best, and the most popular idea will win the day.
"A thousand flowers will bloom, and whichever system is efficient… I think it will take over," Karthik Iyer, India's ambassador to the P2P Foundation, told Inverse in a November story.
Hi there. You've made it to the bottom of this story! Speaking of which… we're giving away an epic $5,000 ski trip to Banff, Alberta. Click here to enter! ⛷