Bitcoin's Repeated Forks Are Perfect for Its Long-Term Success, Says Expert
"I think it's a very healthy model of innovation."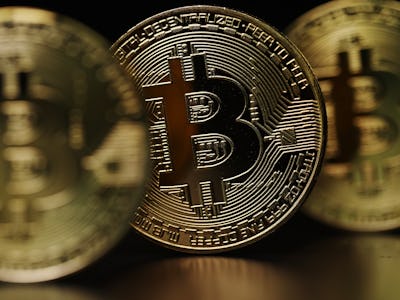 Getty Images / Dan Kitwood
Two new cryptocurrencies have split — or "forked" — from Bitcoin, and that's okay. Bitcoin Cash and Bitcoin Gold, which launched in August and November respectively, both take the original currency in a new direction, attempting to fix some of its biggest flaws.
Karthik Iyer, India's ambassador to the P2P Foundation that hosted one of the first papers to describe Bitcoin, sees these major developments as a positive sign of things to come.
"These different forks will have a life on their own, they will compete," Iyer tells Inverse. "A thousand flowers will bloom, and whichever system is efficient… I think it will take over."
Iyer, who also serves as an ICO advisor to e-Chat, has watched cryptocurrencies evolve rapidly over the past eight years, and he doesn't see these forks as a roadblock. The P2P Foundation hosted Bitcoin founder Satoshi Nakamoto's 2009 paper, one of the first to describe the cryptocurrency in detail. But though Bitcoin has grown at speed since then, moving from a few cents at the start, to a price of $2,000 in May to nearly $8,000 in November, there's still a lot of scope for growth. Cryptocurrency in total is still only worth around $200 billion, a tiny fraction of a global economy worth $84 trillion. In short, there's plenty of room for new players.
The splits, Iyer explains, are similar to the ones seen on the Android mobile operating system. Manufacturers like OnePlus will make their own changes to the software to make it more suitable to their hardware. Sometimes improvements make their way into the regular version of Android.
"I think it's a very healthy model of innovation," Iyer says.
In a similar vein, Bitcoin Cash and Bitcoin Gold make changes to the currency that will benefit certain audiences. Cash, for example, makes the block size eight times larger to enable faster transactions. Gold uses a different algorithm that will stop miners using specially-designed hardware, leveling the playing field.
"There will be an increase of investment going into Bitcoin, but people have also started investing in Bitcoin Cash and Bitcoin Gold," Iyer says. "For money transfer, I think these currencies will be far more valuable because they contain the parent source code of Bitcoin but with improvements."
As the cryptocurrency market expands, some may find Bitcoin Cash suits their needs, while others may find that improvements to the original Bitcoin are enough. These conversations will help Bitcoin adhere to its original goals, contributing new ideas to a project first launched nearly a decade ago.
"It was founded to redistribute value, move money away from bankers and financial institutions to people. Anyone could become a bank, payment service, lender," Iyer says. "It is the greatest redistribution of value in human history."