Why Bitcoin's Value Just Hit an All-Time High
Just what is going on with Bitcoin these days?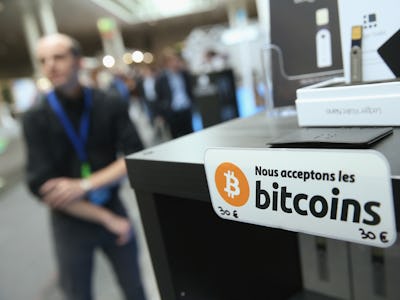 Getty Images / Sean Gallup
Just what is going on with bitcoin these days?
As of Wednesday night, value of 1 bitcoin equaled $1,569.00 US dollars, a dramatic increase for the cryptocurrency.
The year 2017 has been good for bitcoin, as it spiked in January before suffering a blow in March after the Securities and Exchange Commission rejected a bid fromCameron and Tyler Winklevoss to start a new bitcoin exchange. The SEC cited concerns that a bitcoin exchange wouldn't be subject to the sort of regulation that would "prevent fraudulent and manipulative acts." Since then, values have steadily rose.
The new record high for bitcoin puts the overall "market cap," or the total value of all bitcoins being used (to purchase weed over the internet), at just about $24.5 billion, a record all its own. In all, the value of bitcoin is more than three times what it was at this time last year.
Bitcoin watchers Coindesk say the bitcoin boom arrives as the market increasingly has diversified. In addition to bitcoin, there's etehereum (value at $90 Wednesday night), litecoin ($25), and zcash ($101).
Exactly why bitcoin values rise or fall so quickly isn't usually immediately clear. The market is volatile but here's what we know:
First, there's Japan, which began accepting the original cryptocurrency last month, which could see it accepted at up to 260,000 new stores this summer, alone. That's prompted a lot of speculation, which has led to a sharp increase in price. We're reporting this particular threshold value, but there's no telling how high the price might peak in the future.
China is reportedly clamping down on bitcoin exchanges, in an effort to curb money laundering using the cryptocurrency, which is difficult for the authorities to track.
That's also why Russia is considering a more drastic measure, in the form of a total bitcoin ban. While this is considered unlikely, Russia is a center for online theft. Bitcoin law in Russia can have an enormous effect on the overall profitability of hacking — but arguably, any effective bitcoin ban would just push the trade toward a different online cryptocurrency, so-called "alt-coins" like LiteCoin and Ethereum.
These alternative online currencies have been spiking in value as well, partly buoyed by the same forces that have affected bitcoin, partly by the prospect of bitcoin's regional demise. The simple fact is the idea of a digital-only currency, without a government to back it up, has become less off-putting to more people.
Bitcoin, like all cryptocurrencies, likely has quite a bit of growth still to come.