Here's Why Bitcoin Crashed by $1,000 in November
It's not the end of the world...yet.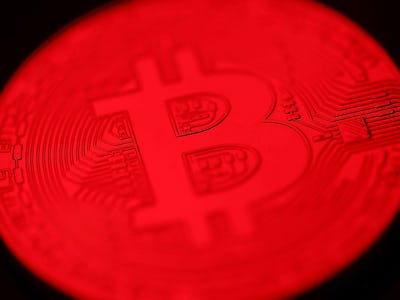 Getty Images / Dan Kitwood
Bitcoin suffered a major price drop on Friday, with arguments over how to upgrade the cryptocurrency leading to buyers playing off against each other to try and profit.
On the Bitstamp exchange, bitcoin dropped to $6,800 at 7 a.m. Eastern time, before settling a few minutes later at a price of $6,870. It's a sudden drop for a cryptocurrency that only just marked an all-time high, reaching $7,888 on Wednesday.
Bitcoin cash, on the other hand, surged up 35 percent to reach $850. This is a cryptocurrency that split off, or "forked", from the existing bitcoin on August 1, the culmination of two years worth of arguments about the future of the currency. Bitcoin's block size is only around one megabyte, which means that transactions are relatively slow. Among other changes, bitcoin cash ups the block size to eight megabytes.
"You can see people playing back and forth between bitcoin and bitcoin cash trading depending on where they think near-term catalysts may be," Chris Burniske, author of Cryptoassets: The Innovative Investor's Guide to Bitcoin and Beyond, told CNBC.
See also: This Teen Quit School and Made a Million on Bitcoin
Investors see potential cryptocurrency splits as a way of boosting their investment, as they receive some of the new coin in the process. Following a split, there's the possibility that prices rise as investors feel confident once the dust settles.
Bitcoin was potentially on the verge of such a dramatic change, called SegWit2X. If it went ahead, next Friday would have forked bitcoin's blockchain again, with the new version supporting block sizes of two megabytes. A plan called BIP 91 was hailed as a solution that would have maintained compatibility and stopped two parallel currencies forming.
On Wednesday, however, this came to a sudden end. Because of a lack of support from the community, advocates feared not enough people would throw their weight behind the new fork, leading to an irrevocable split that would have damaged the cryptocurrency's standing.
"Although we strongly believe in the need for a larger blocksize, there is something we believe is even more important: keeping the community together," Peter Smith, CEO of Blockchain.com and an advocate for a fork, said in a Medium post. "Unfortunately, it is clear that we have not built sufficient consensus for a clean blocksize upgrade at this time. Continuing on the current path could divide the community and be a setback to Bitcoin's growth."
SegWit2X was meant to be the second part of a plan to reinvigorate the currency. Segregated Witness, the first phase, was introduced to bitcoin in August and improves the ability for the blockchain to perform transactions. Smith doesn't see this as the end of the upgrade plan, however, stating that "as fees rise on the blockchain, we believe it will eventually become obvious that on-chain capacity increases are necessary."
See also: The IRS is Going After Bitcoin Owners
On the Bitcoin subreddit, buyers rode the news of the dip in good spirits, claiming that Friday's drop was "just a correction" and the news was not a reason to quit the game just yet.
"Bitcoin on sale!" one community post said. "Six percent off for limited time!!"