This Teen Quit School and Made a Million on Bitcoin. Now What?
Erik Finman has digital money buried in Mexico and a plan to send music into space.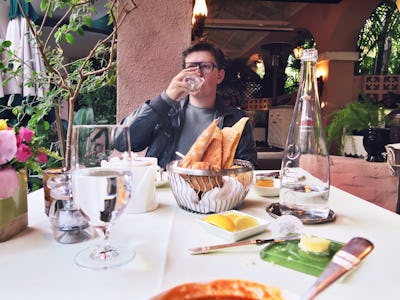 The big thing that money's given me is just freedom," Erik Finman says, getting out of an Uber at his home in West Hollywood. He doesn't drive much in the hectic L.A. traffic, but at some point after he left the family llama farm in Idaho, he leased a Lamborghini and "did some crazy stuff here and there." To be fair, a brief stint with a Lambo is an understandable reaction when you're worth a million in bitcoin at the age of 18.
When Finman was 15, he made a deal with his parents: let him drop out of high school now, and if he didn't make a million dollars by the time he was 18, he would get his GED and go to college. On June 20, bitcoin's price rose to around $2,700 a coin, making Finman, who claims to have 403 bitcoins and a few other traditional investments, technically a millionaire.
Finman started trading bitcoin when he was 12 years old, and at 15 he sold off enough coins to fund his first startup, an online teaching system called Botangle. He sold Botangle for 300 bitcoins (around $60,000) in 2015, which got him off the llama farm and into a swanky apartment in West Hollywood, where he says he pals around with his neighbors (mostly young YouTube stars) and tech elites. (As far as significant others go, there's "not really one main one that I have, he says.") The Lamborghini might be out of the picture for now, but when he does decide to buy a slick new car for real, he's already got the license plate picked out: "2.1GPA," his grade point average when he ditched high school.
He eats at the Polo Lounge at the Beverly Hills Hotel or In-N-Out Burger, depending on what kind of mood he's in. (He's "not a kale guy.") He travels "constantly," — Boston and New York in the next few weeks for conferences, and hopefully Australia this summer — but his favorite place so far is Dubai, an oil-fueled techno-topia on the Persian Gulf. He got held up at gunpoint in Colombia but told CNBC that the homemade panic-button app on his smartphone was "handy" in a crisis.
"I'm a little bit like, you know, Howard Hughes back in the day," Finman says. "He was kinda a mix of Hollywood and a mix of technology, and I'd say that's me in a lot of ways. I like the Hollywood flash and a lot of the Hollywood glamor."
To protect his new life's digital bankroll, he says he has bitcoins spread over multiple secure online wallets and a diversified investment portfolio of other assets. He also says he buried a hard drive with an emergency stash of cryptocurrency "somewhere in the middle of Mexico." ("I won't give you the coordinates," he says, "But yeah, just so if I have any emergencies … you know like Breaking Bad where he had all those tubs of money buried in the desert? That's me, but it's just a small hard drive.")
The llamas-to-riches tale does have a few caveats, of course. Finman didn't exactly come from nowhere. His parents met while working on Ph.D.s at Stanford and now own a radio amplifier company that contracts with the Department of Defense. Both of his older brothers went to elite universities (John Hopkins and Carnegie Mellon) at the age of 16 (one finished high school at Harvard). One now owns an enterprise software company and the other's doing a Ph.D. of his own at MIT. Finman's siblings were homeschooled for much of their early lives, but Erik went to a succession of public and private schools, according to a 2014 profile in New York Magazine.
Unlike the rest of his family, school wasn't a natural fit for Finman, who felt isolated by small-town Idaho and public school teachers he says were ineffective and mean. His struggles manifested from a deep-seated aversion to traditional education; the New York Magazine profile describes him telling a 14-year-old to drop out of school at the TEDx Teen conference in London. The subreddit he started for himself, which is now locked but accessible on an archived version of the site, is full of apparently self-created memes decrying public education. ("When adults tell you to do your homework/ and you ain't no Erik Finman," one reads, superimposed over a picture of a crying child.) Part of this conviction comes from the self-assurance of astounding, blinding success.
When he was 12, in 2011, his brother Scott introduced him to the burgeoning market of bitcoins, buying him 0.2 coins as a starter (worth no more than a couple bucks at the time). A few months later, on Easter, Finman got a $1,000 present from his grandmother and sank every penny into bitcoin, beginning a long-term investment that reaped financial and social benefits. At 12, in the early days of the cryptocurrency, he was a precocious kid playing day trader. But as the scene took off and bitcoin prices rose, Finman found a vibrant social circle with other cryptocurrency enthusiasts, who gathered in forums and huge group Skype calls. (He would speak in the deepest voice possible to disguise his age.)
"You know when people, like a Greenpeace person or something goes to live with the wolves in the forest for a little bit? That's kinda how it was," Finman says of his formative years day-trading bitcoins online and procrastinating on homework. "It was just full of incredible people all coming together, and you just felt like you were at the start of this brand-new thing, this brand-new thing that's going to change the world. And you were a part of that, and a part of it financially. You almost feel like you were an investor in the next wave of world technology."
The wave has had its ups and downs. In January 2015, a European investor approached Finman with an offer for Botangle. After a lengthy correspondence, the investor gave Finman a choice of $100,000 cash for the startup or 300 bitcoin. At the time, BTC was at about $200 per coin, making the bitcoin offer worth just $60,000. Finman's slightly cagey about the details of the agreement, which was complicated, as he was still technically a minor, but he ended up taking the latter offer, as he says a bitcoin transaction was possible without him having to file for emancipation from his parents. (On paper, it's a pity, as Finman could have reinvested the $40,000 difference from a cash transaction back into bitcoin and made an extra 200 coins.)
Still, after the massive bitcoin boom this year and a few other successful investments, Finman says his finances are in pretty good shape. So what does he do with that money, besides paying for a room at the Beverly Hills Hotel? For a while, inspired by his YouTube neighbors, it appears he experimented with vlogging as well, although most of his videos are deleted. Now, Finman says he's concentrating on Project Da Vinci, a cube satellite project run by Finman and students at the North Idaho STEM Charter Academy. (Finman's mother, Lorna, is on the school's board.) The project is a "modern day Golden Record" — a time capsule of contemporary music, books, movies, and data sent into space in a NASA-supported cube satellite program. It allegedly has some A-list backers as well — Finman told Motherboard that Taylor Swift emailed him and asked for her music to go up, along with an engraving on the side of the satellite.
Project Da Vinci hasn't released any more news since its initial announcement in 2016, but Finman says he'll have more to share soon. Still, with a proclaimed net worth of over a million at the age of 18, the world is his oyster — as long as the wild ride of bitcoin prices stay in his favor.