Wikipedia Cofounder Tells Us His Plan to Build Encyclopedia on Bitcoin Tech
Everipedia wants to bring blockchain and tokens to encyclopedias.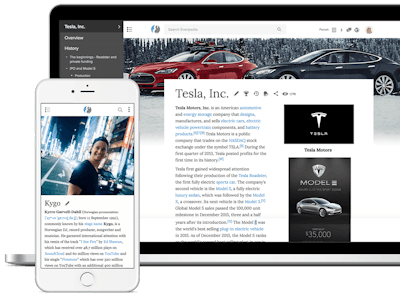 Everipedia
Wikipedia bills itself as "the free encyclopedia that anyone can edit," but the overwhelming majority of us don't. Somewhere between 8,000 and 30,000 volunteer writers and editors work to maintain the world's fifth largest site. That's a ton of people, but compare that with the billions of active users on Facebook and Twitter, all contributing to humanity's sum total of knowledge, just in a way less orderly way.
"Wikipedia always struck me as a huge missed opportunity," Wikipedia cofounder Larry Sanger tells Inverse. He believes that, with the right incentive, an online encyclopedia could leverage not just several thousand power users but most of humanity to maintain our collective knowledge. "Instead of having six million articles, we'll be talking about hundreds of millions of articles."
Sanger thinks he's found just the encyclopedia for that grand project, and just the right technology to make it happen. Forget Wikipedia, say hello to Everipedia, the self-billed "encyclopedia of everything."
It's the world's first encyclopedia on the blockchain, the distributed ledger system that underpins the cryptocurrency Bitcoin, and the financial incentives that come with that could help it rival Facebook and Twitter as a permanent source of information with millions of contributors. And as announced Wednesday, Sanger has joined the team as its chief information officer, bringing the knowhow that helped make Wikipedia a colossus of the online world. Sanger sees big things in Everipedia.
"It's going to change the world in a dramatic way, more than Wikipedia did," Sanger tells Inverse.
The site originally started in 2015 as a Wikipedia alternative. It's since grown into a major source of information: With six million articles, it's the world's largest English language encyclopedia, bigger than English Wikipedia itself. It has a lower threshold for notability, allowing for a far broader range of articles as long as they have a credible citation. Its easy-to-use editing interface is also designed to make contributions as easy as posting on Facebook.
Putting Everipedia on the blockchain takes these advantages to the next level. Unlike a traditional website, where the data is stored on a single server, Everipedia has no hosting costs as the data is distributed over a peer-to-peer setup. That also means it's uncensorable, as people will be able to move around national blocks by simply visiting a different node. It also means there's no centralized organization managing the whole thing.
"If the Everipedia team got abducted by aliens tomorrow, then you can continue working knowing that this protocol will continue to live on peer-to-peer," Theodor Forselius, Everipedia co-founder and CEO, tells Inverse.
Everipedia takes a leaf out of Bitcoin's book by incentivizing creators with tokens that have real economic value. When you curate or edit an article, you'll receive a token. They represent votes in the system. The more you have, the more clout you have over what gets accepted onto the blockchain. It also means that there's a financial incentive to ensure that the site gets high quality content, as you'll earn more tokens for good work.
The token is also a stake of the overall site, meaning creators are stakeholders in the network itself. The token derives its value from that of the entire encyclopedia. The tokens will be tradable on exchanges, and people can buy and sell their tokens.
Several mechanisms are designed to prevent vandalism. When you propose an edit, for example, you stake some tokens at the same time. If it's approved you get the tokens back and then some, but if they're not your tokens get trashed. Because everyone is literally invested in making the site better, you want to try and make a high-quality contribution.
"It's really cool, and this hasn't really been possible until this kind of technology became available," Forselius says.
The team has big plans for future expansion. By the end of the second quarter, Everipedia users will have the ability to rate competing articles and decide on the best. The organization will also start supporting encyclopedic content from other sources. Sanger says he is in discussions with "a good friend" that is also the head of a well-known encyclopedia, with plans to add their content to the Everipedia blockchain.
"I'm just so excited to actually, finally, have the opportunity to execute this idea," Sanger says.