Inside Estonia's Bold Plan to Build a Digital Country on the Blockchain
The e-Residency initiative is just the beginning.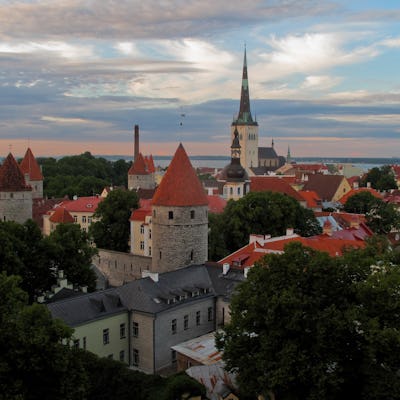 Flickr / TausP.
Estonia, located on the Baltic Sea in northern Europe, is a small country, only home to 1.3 million inhabitants. But its government announced a new plan this month that could someday make it one of the world's biggest nations online. The plan lets anybody with an internet connection become a resident of Estonia, thanks to the blockchain.
"Join the new digital nation" is the welcome message on the Republic of Estonia's e-Residency website, touting stats that more than 27,000 people from 143 countries have applied to become digital denizens.
"Despite much of the negativity in the news right now, the overall trend appears to be positive for the opportunities that await our generation and the next ones," Arnaud Castaignet, head of public relations for e-Residency, tells Inverse.
The economic impact is most obvious thus far. Already, 4,272 companies have been established by e-residents seeking to avoid the bureaucracy and taxes that their home countries might impose on running a business.
"The internet and other advances in digital technology are enabling more people to live and work globally with greater freedom, independent of any fixed location," he adds. "As a consequence, governments like ours in Estonia are evolving fast into borderless digital nations in order to better serve and benefit from the rise of these new world citizens because we must respond to their changing opportunities and habits."
Let's take a look at the official pitch from Estonia:
"While some countries push people away, Estonia pulls them in. What kind of problems can E-Residency solve for an entrepreneur? Say you're a freelance writer in Ukraine and you need to receive international payments. E-Residency enables it. Or maybe you run a startup in India and you need access to cross-border capital to help scale internationally? E-Residency allows it."
The e-Residency unveiled its plans for a crypto token system this week, a move that its proponents hope will break down barriers and usher in a new way for people to interact. The e-Residency initiative, which allows anyone in the world to become a virtual resident, could soon use the technologies that have made bitcoin and other cryptocurrencies a success — which could ultimately redefine the idea of national borders.
It comes at a time when the world is abuzz with excitement about bitcoin. Since the mysterious Satoshi Nakamoto published the 2008 white paper outlining the cryptocurrency, developers have devised ingenious ways to leverage the blockchain, a public ledger that keeps a secure log of transactions.
This includes Ethereum, which uses smart contracts to automate complex financial transactions and Everipedia, which uses the blockchain to create a decentralized encyclopedia. The estcoin proposals, built on the e-Residency team's work, are the latest step in this trend.
Watch an explainer of e-Residency below.
Kaspar Korjus, managing director of e-Residency, first outlined estcoins in a Medium post in August. Since then, he's set up a working group to discuss the next steps with the Ministry of Finance, external advisors, the private sector, members of the Parliament, members of the e-Residency board, representatives for the Bank of Estonia, law firms, and members of the e-Residency team.
In a post last week, Korjus outlined three possible estcoin ideas:
Community estcoin: This would reward e-Residents for driving new members to the platform or contributing in a meaningful way. The initiative has been a big success since launching three years ago, with nearly 30,000 applicants, but a reward scheme could expand it further. The tokens would be freely tradeable on traditional exchanges, rewarding people for their part in the community.
Identity estcoin: This proposal is less about economic rewards for community members and more about using the blockchain to verify a user's identity. This would cut down on verification costs and save the taxpayer money. Members would receive a set number of personal tokens, and they can purchase more at a cost that covers network maintenance. As the network grows bigger, the cost of transactions will lower and the price of a token should decrease. Tokens would not be exchangeable because they are personal to the user.
Euro estcoin: Instead of a token that fluctuates in value, this estcoin would peg the value of one token at one euro, with the government committed to transferring between the two. Transactions between community members could work on the blockchain, meaning people could buy estcoins, send each other tokens, and easily send money to friends as small gifts, for example. This idea aims to "combine some of the decentralised advantages of crypto with the stability and trust of fiat currency and then limit its use within the e-resident community."
"We are living in a very brief period in human history in which the world's population is confined in its opportunities by the geopolitical boundaries," Korjus said in the post. "For now, a nation is assigned to us at birth then usually stays with us for life. This random allocation of the world's population determines our life opportunities more than almost any other single factor. However, change is coming."
It's important to note that none of the proposals are aimed at replacing Estonia's national currency, the euro, which is used by 19 of the 28 European Union member states. The team says that all three of the proposals could be implemented without breaking the European Central Bank's rules against maintaining parallel national currencies.
"[President of the European Central Bank] Mario Draghi said there is only one currency in the Eurozone and we totally agree," Castaignet says. "Estonia is fully committed to this."
It is unclear when, if at all, these proposals will launch. The team will debate the three options and continue exploring their viability.
"Citizens are going digital and global," Castaignet says. "If the state doesn't keep up, it will lose the attention of its citizens and it will become obsolete. At the same time, it is also the role of governments to provide an environment and framework that could be both trusted and motivational. To reach this goal and in order to unlock powerful drivers of economic growth such as the crypto economy, cooperation is necessary: between governments and private sector, between governments and the crypto community and also between administration and hackers. So, with this philosophy, Estonia will continue to embrace new disruptions, not to fight against them."