Uber Will Never Escape Travis Kalanick
The company's recent history looks a lot like its future.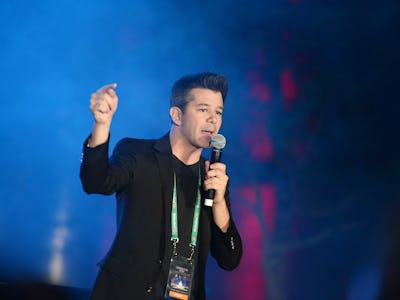 Getty Images / Stephen Lovekin
On Tuesday, Travis Kalanick — the founder, CEO, and public face of Uber — announced that he would take an indefinite leave of absence from his company, stepping down from its daily leadership for the first time in Uber's eight-year reign as king of the ride-sharing economy. The notoriously aggressive CEO was at the center of many of the company's endless scandals in the past six months, which made Uber into a bloated, corrupt embodiment of every ugly part of Silicon Valley sexism, greed, and moral bankruptcy.
Now, after a comprehensive report into the company's sins compiled by former Attorney General Eric Holder, Uber's leadership has pledged to make a change. But that promise, in and of itself, is a monumental act of hubris and deceit. Fundamentally, Uber will not change. And Travis Kalanick probably doesn't want it to, because the business model and corporate culture that victimizes consumers and employees alike is the same one that made him a billionaire.
Founded in 2009, Uber quickly became a leader in the growing "gig economy," a term used to describe the decline of full-time work in favor of a flourishing ecosystem of smartphone app-organized and often poorly paid freelance opportunities, odd jobs, and service work. Uber found a niche in ride-sharing, and under Kalanick's ambitious, aggressive leadership, it exploded in popularity and revenue. It built an empire by undercutting regulated taxi services, which has in some cases forced unionized drivers to trade in their cabs for a leased 2014 Honda Civic. The company then allegedly exploited the drivers at every possible opportunity, including shortchanging them millions of dollars, and using psychological tricks to coerce them to keep driving at times that would be most profitable for the company.
This is the business model Uber was built on — one that rewards a flagrant disregard for rules and common decency — and none of Eric Holder's 47 proposed changes to the company's culture will remake it into something that does right by the people it employs or serves. Pretending otherwise is a lie, even if the fantasy happens in the company's "Peace Room".
Here are a few things that probably will happen sometime in the next year: Eventually, Uber's public image will recover. The company has been looking for a Chief Operating Officer since March — before Kalanick's exit, the idea was to find a "partner" for the brash CEO to steady the ship and maybe cut down on all the horrible sexist shit happening inside the company's SF offices. Recode has a great breakdown of who, exactly is in charge with Kalanick away, noting that there are still half a dozen major positions in Kalanick's "world class leadership team" still vacant.
The company is positioning Kalanick's time away as part of a comprehensive effort to "put people first" and make "Uber 2.0" a safer place for women and minorities, as well as a personal hiatus for its CEO, whose mother recently died in a boating accident at the end of May. The Uber board's first priorities will probably be to fill those gaps in leadership, and make well-publicized efforts to hire a more diverse staff (two of three reported COO candidates are women). The company will likely implement a far more rigorous set of human resources policies, based around Holder's recommendation, to minimize the company's risk of losing public face when its new employees are inevitably deluged in the remnants of Kalanick's aggressive bro-culture.
These changes will undoubtedly make life nominally better for many of Uber's 12,000 employees. But make no mistake: no amount of rose-tinted press releases will change the troubling paradigm that Uber, and the ride-sharing economy as a whole, is built on. Indeed, we may see the era of underpaid contractors as glory days, with Uber's publicly stated goal being to replace human drivers with autonomous cars as quickly as possible, while also monetizing every bit of information its customers provide.
Uber's full-time, white-collar employees are starting to realize it as well. The New York Times's Mike Isaac, one of the best-sourced journalists covering the company, reports that "dozens" of employees are quitting every week, and that several of Silicon Valley's other household names see Uber as a "black mark" on a tech worker's resume.
And the dark cloud will not dissipate any time soon. Even on leave, Kalanick retains an enormous amount of control over the company through a favorable system of voting shares. As Adrianne Jeffries notes in the Outline, Uber's investors may have soured to Kalanick's "hard-nosed" leadership and parade of juvenile behavior. Jeffries reports that Uber employees, for the first time, can see a future for the company without Kalanick at its head.
But what kind of future is that? Despite it's "disruptive" business model, $12 billion dollars of venture capital funding, and an estimated value of anywhere from $50 to $70 billion Uber has yet to actually make a profit, or offer an IPO. At best, Uber can hope to cultivate reputation like Facebook, a tight ship run by a competent COO, Sheryl Sandberg, and a brilliant CEO who's too dweeby to appear overtly threatening, that offers a product so integral to modern life that its consistent moral transgressions fade from the public consciousness faster than they appear. But right now, Uber's story still feels like a rejected script for David Fincher's next scandal-filled Silicon Valley biopic. Even if the company manages to sever ties with Kalanick, his legacy as the once and potentially future ruler of the company has cemented a business model of exploitation, deceit, and ruthless capitalism that will continue to abuse its workers and customers alike, until the next tech disruption wipes out the ride-sharing economy or we all drown in the rising seas.