Uber Admits to Using 'Greyball' Tool to Avoid Public Scrutiny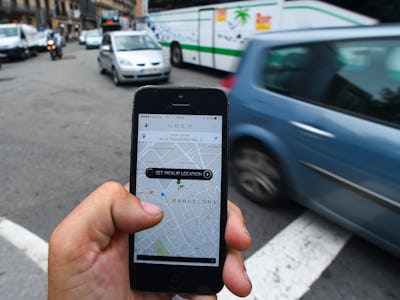 Getty Images / David Ramos
For years, Uber has been dodging cops, snitches, public officials, and anyone who it thought would violate its terms of service agreement using a tool called Greyball. The tool flagged users Uber believed were working against it in some way — like government inspectors — and made it almost impossible for them to catch a ride. Oh yeah, and now Uber admits to the whole thing.
Four current and former Uber employees described the program in detail to Mike Isaac at the New York Times, explaining how regional general managers for Uber would use a variety of tactics to determine which riders were really enforcement officers. Once they figured it out, they would "greyball" those users accounts, which would effectively discourage drivers from picking them up, and create fake car icons on the in-app map of available Ubers. According to the Times, Uber employees would draw a "geofence" around authorities' offices and monitor which accounts opened and closed the app frequently in that area.
"This program denies ride requests to fraudulent users who are violating our terms of service—whether that's people aiming to physically harm drivers, competitors looking to disrupt our operations, or opponents who collude with officials on secret 'stings' meant to entrap drivers," an Uber spokesperson said in a statement. The Uber spokesperson claims the program was rarely used against authorities on sting operations. Instead, the company claims it was used to protect drivers from abuse (in cities it was legally allowed to operate in, the spokesperson noted), and to prevent competitors from interfering with the app.
This video from 2014 shows City of Portland code officers unsuccessfully attempting to catch an Uber, which launched without the city's permission in December of that year.
According to the Times, Portland officers like Erich England, depicted in the video, couldn't catch an Uber because they weren't really using Uber — the app had identified them and given them a "ghost version" of the app filled with fake cars. While Uber was careful to downplay the extent to which Greyballing was used against authorities, instead pointing out instances in which competitors, like taxi drivers, had harassed or intimidated Uber drivers, it didn't deny that part of the program's purpose was essentially "no cops allowed."
While Uber's tactics have yet to provoke a legal response from the government, the company has a history of misinterpreting local laws and being evasive with regulation. In California, the company is finally applying for an autonomous vehicle testing permit, months after it was told to by DMV lawyers following its autonomous vehicles' ejection from the state. In general, 2017 has not been Uber's year, and it doesn't look like March will be any better.