Uber's Self-Driving Cars Will Skulk Back to California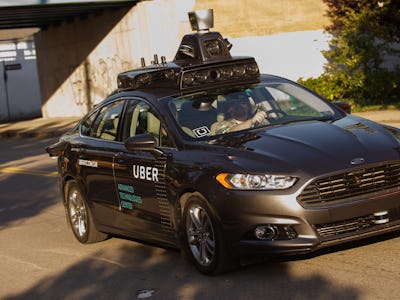 Getty Images / Jeff Swensen
Uber's self-driving cars are headed back to California after a short time-out in Arizona, and this time, they're going to follow all of the rules. Probably.
According to the San Jose Mercury News, Uber is "taking steps to complete [its] application to apply for a DMV testing permit."
"Uber hasn't formally submitted their autonomous vehicle tester program application," DMV spokesperson Jessica Gonzalez told Inverse in an email. "But just as we would with any other manufacturer, the DMV is providing assistance with the steps necessary to apply for and receive a test permit." Gonzalez told Inverse that it only takes about 72 hours to receive a permit once the manufacturer completes the application, which often takes some time.
"These cars are legally registered and are being driven manually," an Uber spokesperson told Inverse. "We are taking steps to complete our application to apply for a DMV testing permit. As we said in December, Uber remains one hundred percent committed to California."
An autonomous vehicle tester permit costs $150, and interested parties need to provide the DMV with proof of at least $5 million in insurance, and identify the drivers and specific vehicles involved. Uber could easily have met all of these conditions months ago, but due to a strange interpretation of California law and a flippant disregard for the DMV's legal advice, it didn't apply for the permit (Anthony Levandowski, in emails to the DMV's chief legal counsel, insisted Uber's autonomous systems were just "cool safety technology," even as the company conducted tests of the driverless software).
One of its cars then immediately ran a red light on launch day, and were summarily booted from the state.
California reinstated the registrations on two of Uber's vehicles a few weeks ago, but said they needed human drivers at all times. Now, it appears that Uber is starting the process to do actual above-the-board autonomous testing in California. The big change, however, is that Uber will now have to report "disengagements," or instances when the self-driving software hands off control to a human operator. Disengagements are an interesting metric for discerning how well a company's autonomous systems are progressing — according to California records, Google's Waymo startup is currently in the lead. Funnily enough, Waymo's good record might bode well for Uber, as the two companies autonomous systems are so similar Waymo is suing the ride-sharing company for stealing its tech.
The Waymo lawsuit is a sizeable snowflake in a massive avalanche of terrible press for Uber, which has weathered detailed allegations of sexual harassment, the #deleteUber protests, stiff competition from Lyft, and an embarrassing video of CEO Travis Kalanick arguing with one of his drivers on Superbowl Sunday. At this point, Uber desperately needs a win, and the company seems committed to doing things by-the-book from now on in its home state.