Dashcam Video Shows Uber CEO in a Heated Argument With His Driver
"Some people don't like to take responsibility for their own shit."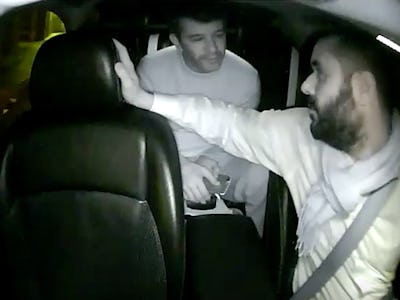 Uber has had a pretty rough 2017 so far, and it doesn't look like things are going to turn around anytime soon. The ride sharing giant is already dealing with a massive boycott, major lawsuit, and sexual harassment scandal, but this latest PR nightmare comes courtesy of CEO Travis Kalanick, who was caught on tape getting into an intense argument with an Uber driver. Both men lost their cool.
The video, obtained by Bloomberg on Tuesday, shows the 40-year-old executive and two female companions inside an Uber on Super Bowl Sunday. The car, one of Uber's high-end black cars, belongs to driver Fawzi Kamel. After an awkward ride peppered by small talk and some impressive manspreading, Kalanick and Kamel start to get into it after the two female passengers have exited the car.
Kamel, who has been an Uber driver since 2011, objects to the way Kalanick's company is handling the black car service. "You're raising the standards, and you're dropping the prices," he tells the CEO.
Uber Black charges $3.75 per mile and $0.65 per minute in San Francisco currently, but the rates used to be much higher. Bloomberg reports that the cost used to be $4.90 per mile and $1.25 per minute. For Uber Black drivers like Kamel with an expensive car, that's a problem.
"I lost $97,000 because of you," Kamel says. "I'm bankrupt because of you."
Kalanick, the CEO of the $69 billion company that Kamel works for, strongly objects to that. "Some people don't like to take responsibility for their own shit," he replies as he gets out of the car. "They blame everything in their life on somebody else. Good luck!"
"Good luck to you, but I know [you're not] going to go far," Kamel fires back as Kalanick left. Bloomberg reports that he gave Kalanick a one-star rating.
Before exiting in a huff, Kalanick got a chance to explain, in his words, why Uber has had to lower prices. "We started high-end," he says. "We didn't go low-end because we wanted to. We went low-end because we had to, because we'd be out of business."
"What? Lyft?" Kamel responds, seemingly unimpressed with Uber's major competitor. "It's a piece of cake right there."
"It seems like a piece of cake because I've beaten them. But if I didn't do the things I did, we would have been beaten, I promise," Kalanick responds.
While the argument is a revealing insight into both the state of Uber leadership and driver relations and the economic reality of the gig economy, it's kind of a shame the two squabbled. After all, studies show that people who talk to their Uber driver are 213 percent more likely to have sex.
Update 3/1 6 a.m. Eastern: Kalanick has sent a response to all Uber employees, which has been posted on the company's blog:
By now I'm sure you've seen the video where I treated an Uber driver disrespectfully. To say that I am ashamed is an extreme understatement. My job as your leader is to lead…and that starts with behaving in a way that makes us all proud. That is not what I did, and it cannot be explained away.
It's clear this video is a reflection of me—and the criticism we've received is a stark reminder that I must fundamentally change as a leader and grow up. This is the first time I've been willing to admit that I need leadership help and I intend to get it.
I want to profoundly apologize to Fawzi, as well as the driver and rider community, and to the Uber team.