Uber Settles Big Driver Exploitation Case for $20 Million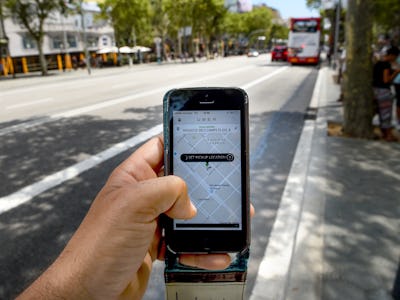 Getty Images / David Ramos
Uber has agreed to pay out $20 million to settle a lawsuit that claimed the ubiquitous ride-hailing company had misled potential drivers by wildly exaggerating how much money they could make.
The Federal Trade Commission accused Uber of some shady practices in an attempt to attract new drivers to the service, including making a claim that the median income for a driver was more than $90,000 in New York and $74,000 in San Francisco annually. In reality, though, the FTC says drivers in those two cities actually made just $61,000 and $53,000, respectively. The suit also alleges that Uber mislead drivers about how much financing they could expect through the company's Vehicle Solutions Program.
Uber is not admitting any wrongdoing as part of the settlement, which was announced on Thursday, but they are shilling out $20 million, which the FTC will distribute to drivers who were victims of Uber's misleading practices. The statement also prohibits Uber from using tactics like this again in the future, which seems like a no-brainer.
"Many consumers sign up to drive for Uber, but they shouldn't be taken for a ride about their earnings potential or the cost of financing a car through Uber," said Jessica Rich, Director of the FTC's Bureau of Consumer Protection in a subtly clever statement. "This settlement will put millions of dollars back in Uber drivers' pockets."
"The reality of being a ridesharing driver is a far cry from the rosy picture these apps describe and it is encouraging to see the FTC take them to task and refund drivers," Jim Conigliaro, Jr., the founder of the Independent Drivers Guild, said in an emailed statement following the announcement. "It's time for Uber to ease this burden on drivers. It's time to give working drivers a raise."
It's worth noting that $20 million isn't a huge amount of money to a company like Uber, which is valued at tens of billions of dollars.