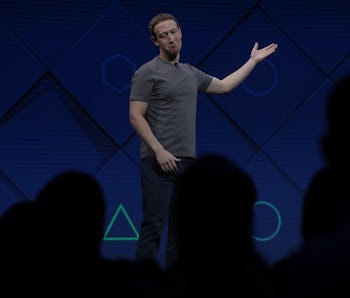 Innovation
Facebook Criticized for Hiring "Digital Suicide Janitors"
Can 3,000 moderators stop people from being awful?
Getty Images / Justin Sullivan
On Wednesday, Facebook CEO Mark Zuckerberg responded to a string of recent disturbing incidents that had been broadcast on Facebook Live by announcing that they would be hiring 3,000 moderators to comb the feature for footage of self-harm, violence, hate speech, and child exploitation.
In April, the murder of Robert Godwin, and the Thai man who killed his infant and himself, drew public attention to Facebook's widget as a dystopic content-sharing tool.
Zuckerberg responded to the incidents, recognizing the need to keep such disturbing content off the site. This week he's begun to follow through on his promises to improve. Zuckerberg says the 3,000 new moderators, who will be hired over the coming year, will help address reported posts more quickly.
And while many commentators are praising the decision, the internet has responded with some rather unflattering criticisms. Some question whether live video is worth the risks it creates, while others express concern about the mental health of people who have to monitor disturbing content. And beyond these specific concerns, some critics wonder whether this problem is more of an issue of humans simply being awful.
Here are some of the questions people are asking in light of this news:
Is This an Acceptable Cost for a Site Feature?
Do We Need Facebook Live That Badly?
Who Would Even Be Qualified for These Jobs?
Is This Really a Good Use of Resources?
Does Facebook Know How to Hire Qualified Applicants?
Why Did it Take So Long for Facebook to Hire Moderators?
What About the Moderators' Mental Health?
Are Moderators the Right Answer to a Human Problem?
Oh God, Is This Really the World We Live in Now?!
Will This Lead to Facebook Policing Non-Violent Content?
This hasn't been an easy week for the social media site, which is also dealing with criticisms of gender bias. But with many people praising Facebook's decision as a positive and necessary move, it looks like this change will take place.