Mark Zuckerberg Speaks Out About the Facebook Murder
"We have a lot more to do here."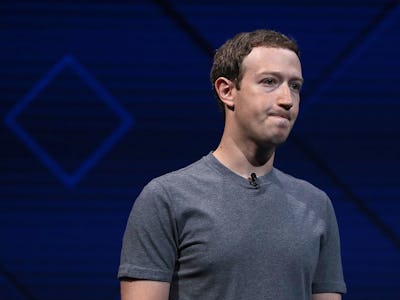 Getty Images / Justin Sullivan
Robert Godwin's tragic murder, which was live-streamed on Facebook on Sunday, has raised a number of questions as to how Facebook should handle crime and violence. Two days after Godwin's death, Facebook CEO Mark Zuckerberg directly addressed the problem his service faces with publicizing violent crime and expressed his condolences to the victim's family during the first ten minutes of his keynote address at Facebook's F8 Developer Conference in San Jose on Tuesday.
"We have a lot more to do here," he said. "And we're reminded of this this week by the tragedy in Cleveland. Our hearts go out to the family and friends of Robert Godwin Sr. We have a lot of work, and we will keep doing all we can to prevent tragedies like this from happening." Zuckerberg also promised that Facebook would improve its filtering and handling of violent videos.
On Sunday, Steve Stephens pulled up in a car next to Robert Godwin Sr., a 74-year-old who was walking on the sidewalk. While filming the events on his cell phone, Stephens reportedly said, "I'm about to kill this guy right here; he's an old dude," and proceeded to shoot the man at close range. Stephens uploaded the video to Facebook, and later commented on the murder on a Facebook Live stream. On Tuesday, Stephens killed himself while being pursued by the police.
This isn't the first time Facebook has captured videos of murder. In July 2016, a man in Chicago was shot while he was streaming a video on Facebook Live; a fleeing Oklahoma murderer in October 2016 live streamed his run from the police on Facebook. In Falcon Heights, Minnesota, a woman live-streamed the aftermath of a police shooting in which her unarmed boyfriend, Philando Castile, was killed by a police officer during a routine traffic stop. Many convicted murderers have actually posted their confessions on Facebook.
Although Facebook isn't at fault for the murder itself, it's not surprising that the network has also become an outlet for violence. Because it's so easy to broadcast basically anything to a global audience, the network makes it easy for would-be murderers to achieve viral fame As Mike Issac, a reporter for the New York Times points out, it isn't likely to stop anytime soon.
Zuckerberg's speech at the conference comes one day after Facebook released a statement on the events, saying, "We disabled the suspect's account within 23 minutes of receiving the first report about the murder video, and two hours after receiving a report of any kind. But we know we need to do better." The statement also said that Facebook is "reviewing our reporting flows to be sure people can report videos and other material that violates our standards as easily and quickly as possible."
F8 continues tomorrow, April 19. Stay tuned for more details.