How to Watch Facebook F8: "Weapons of Mass Creation" Ahead!
You can sign up via -- you guessed it-- Facebook.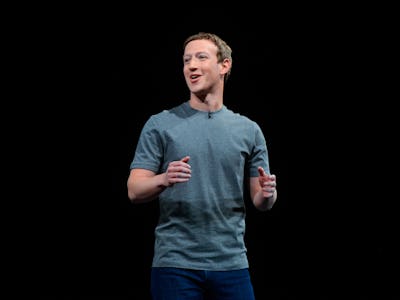 Getty Images / David Ramos
Tuesday marks the first day of Facebook founder Mark Zuckerberg's F8 conference, where the Harvard-dropout tech monarch will let the public in on all of the developments to come to his global social network in the next year. Hosted in San Jose, California, the conference will, of course, be available to stream online.
If you're interested in tuning in, the conference begins at 10 a.m. Pacific time (1 p.m. Eastern) and is available to anybody with a Facebook account. Just head over to the conference's web page, where you'll find a link to register to view the event. From there you can either register with Facebook or provide an email address. A notification will come when it's time to tune in.
According to the F8 website, "This year's sessions feature a wide range of topics across the Facebook family of apps and services – with relevance to developers and businesses." Conference sessions will be focusing on topic such as, "Camera," "Virtual Reality", and "Weapons of Mass Creation."
Among the much-anticipated items set for an official reveal at F8 are things like the new Gear VR controller for the Galaxy S8.
It's going to be a busy couple of days in San Jose, with both new product launches and looks into Facebook's own model for rolling out new services, like the more recently added "reactions" option.
The conference runs from today until tomorrow, Wednesday, April 19th, and a complete schedule of events can be found here.