XBB.1.5 is spreading rapidly across the country. Here's why you shouldn't panic.
Don't panic, but do take precautions.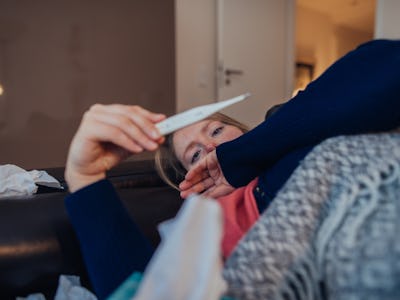 Getty
Omicron, the variant that has dominated Covid cases since Thanksgiving of 2021, isn't done with us yet, it seems. The latest subvariant of Omicron sweeping the country, XBB.1.5, is moving fast. It now accounts for 70 percent of Covid cases in the New York City area and more than 40 percent in the United States. Here's what you should know about the latest alphabet soup variant.
What do we know about the omicron subvariant, XBB.1.5?
Omicron first reached the United States in November of 2021, and unlike previous variants, it spawned successful sublineages that have quickly overtaken other variants, including the original omicron variant. Its dominance results from mutations that make it more transmissible and better at evading immune defenses from vaccination or previous infection.
If a variant is going to become dominant, "it has to outcompete whatever came before," Peter Hotez, Dean of the National School of Tropical Medicine at Baylor College of Medicine and Co-Director of the Texas Children's Hospital Center for Vaccine Development, tells Inverse. "Usually, it's some combination of partial immune escape and increased binding to the host receptor, or transmissibility."
Early indications are that both factors are playing a significant role in the spread of the variant. That's because it has more mutations than any other variant, including one in the spike protein that virologists say improves its ability to latch onto the ACE2 receptor; the ACE2 receptor is how the virus gets into our cells. This mutation to the spike protein increases the variant's transmissibility.
Changes in people's behavior are also contributing to the surge. Fewer mask mandates combined with holiday gatherings and spending more time indoors also likely play a role.
Crucially, there is no evidence that XBB.1.5 causes more severe disease than any of its predecessors, though public health experts say that's no reason to be cavalier about the variant.
"Some people think increased transmissibility means increased disease severity, which isn't necessarily the case," says William Schaffner, Professor of Medicine in the Division of Infectious Diseases at the Vanderbilt University School of Medicine. "Conversely, some people think that simply because a virus has become more transmissible, it will cause less severe disease. Neither of those conforms with prudent, cautious public health practices."
How to protect yourself from XBB.1.5
One of the most important things you can do to protect yourself from the worst Covid outcomes, Hotez and Schaffner say, is to make sure you're up to date on your Covid-19 boosters, especially the updated (bivalent) booster.
"Our current bivalent booster continues to provide good protection against hospitalization," Schaffner says. Hotez agrees, referencing data published this week in the New England Journal of Medicine that evaluated the booster against another omicron subvariant: XBB.1.5's "parent," XBB.
"It showed that there is cross-neutralization against the parent version, XBB," he says. That means that some of the antibodies elicited by the updated booster effectively neutralized some of the XBB subvariant.
"There's enough there to push hard on recommending people getting their booster. People who had received the bivalent booster were less likely to be hospitalized than those who had not," Hotez says. That may have implications for long Covid as well. While people with mild cases of Covid can definitely develop long Covid, organizations like The Mayo Clinic, The American Lung Association, and some public health experts like Hotez say the evidence suggests that long Covid is more likely to occur after a bought of severe Covid. Vaccination reduces the risk of severe disease, and, perhaps because of this, it may reduce the risk of long Covid as well.
Unfortunately, CDC data show that most Americans aren't taking that preventative step; Only 15.9 percent of Americans over the age of five have gotten the updated booster.
"Some people have trouble understanding [that] a vaccine can be effective at preventing hospitalization and death, but not very effective at preventing infection," Schaffner says. "That may be one of the reasons some people are not getting the [updated] booster."
But vaccines are not a zero-sum game; efficacy exists on a spectrum. When the far side of that spectrum is hospitalization or death, it's a good idea to do what you can to avoid it. If you haven't gotten the updated booster yet, you can find a place to do that through the CDC's vaccine finder.