What are the side effects of the new Covid-19 bivalent booster? Here's what you need to know
The FDA authorized both Pfizer and Moderna's Omicron-specific jabs.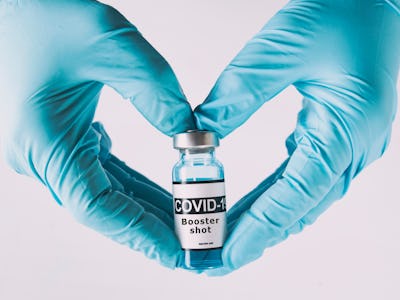 Shutterstock
It's official: Both Moderna and Pfizer-BioNTech's Omicron-specific boosters are a go.
This month, the U.S. Food and Drug Administration authorized the retooled shots, which target the BA.4 and BA.5 Omicron subvariants, in anticipation of a fall and winter Covid-19 surge and CDC director Rochelle Walensky gave the final okay shortly after. This means that, depending on which vaccine you get, everyone age 12 and older are now able to receive the updated shot.
"As we head into fall and begin to spend more time indoors, we strongly encourage anyone who is eligible to consider receiving a booster dose with a bivalent COVID-19 vaccine to provide better protection against currently circulating variants," FDA Commissioner Robert M. Califf said in a tweet on Wednesday. "The COVID-19 vaccines, including boosters, continue to save countless lives and prevent the most serious outcomes (hospitalization and death) of COVID-19."
The federal goverment has already secured 105 million doses of the Pfizer bivalent booster and 66 million doses of Moderna's equivalent shot, reported Reuters.
Since Omicron's identification in late 2021, vaccine makers have been tinkering with a bespoke shot to provide better and stronger immunological protection against new circulating versions of the virus behind Covid-19, SARS-CoV-2. In June, both Pfizer and Moderna presented clinical trial data to the FDA on BA.1-targeting vaccines. But the advisory panel instead recommended Pfizer and Moderna consider creating a bivalent vaccine against the BA.4 and BA.5 subvariants, futureproofing for any inevitable surge brought on by these strains. BA.5 now dominates globally and accounts for 90 percent of cases in the U.S., according to the CDC.
It's important to note for the retooled boosters, authorization is being made based on animal data, which has not been publicly released yet. At the June FDA meeting, Pfizer presented preliminary data that showed when mice were given BA.4/BA.5 as their third dose, the animals showed an increased response to all Omicron variants — BA.1, BA.2, BA.2.12.1, BA.4, and BA.5 — compared to mice that received the original vaccine as a booster, reported Science.
"The mouse data are helpful," Michael T. Osterholm, director of the Center for Infectious Disease Research and Policy at the University of Minnesota, told the Washington Post. "But the reason to have data for humans is to say the immune response is as good or better" as the one triggered by the original vaccine or an alternative.
Other experts like Peter Hotez, co-director of the Center for Vaccine Development at Texas Children's Hospital, said the move to include new subvariants makes sense.
"In an ideal world, there is an advantage of combining BA.5 with the original lineage because BA.5 is still with us," Hotez told NBC News. "And if there's a new variant of concern that emerges later this fall or in the winter, it's a possibility it'll look more like BA.5 than the original lineage."
But Hotez added that while revamped vaccines could provide more effective protection against Omicron sublineages, it's uncertain without hard and fast data in humans (although mice are a good proxy). Pfizer and Moderna are gearing up for clinical trials in humans next month.
Considering that SARS-CoV-2 is here to stay with some sort of seasonal regularity, authorization without new human data might be a move we will see more of with future boosters, similar to the FDA's approach with annual flu shots.
"Bivalent and multivalent vaccines are very common and modifying a vaccine to include different virus strains often does not require a change in other ingredients," Califf tweeted last week. "FDA has extensive experience with reviewing strain changes in vaccines, as is done with the annual flu vaccine."
When should you get boosted?
With the CDC's recent endorsement of the upgraded Omicron-specific boosters this month, the question doubtlessly on everyone's mind is when can you get one.
If you got your last booster at least two months ago, the agency recommends the Pfizer-BioNTech shots for people ages 12 and older and Moderna for those 18 and older. The agency said in the coming weeks, it expects to expand the eligibility to younger children once more efficacy data rolls in (potentially in the next month or two, STAT News reported).
Unlike the flu, which you get boosted for seasonally, Covid-19 is not yet considered a house guest with similar seasonality and predictability, although it may get there in the future.
"This virus isn't a strictly winter virus like most respiratory viruses," Paul Offit, director of the Vaccine Education Center at Children's Hospital of Philadelphia, tells Inverse. "It's likely to be, and that's been true the last two winters where it certainly bumps in the fall and winter."
But until we get to a point where we can predict the virus' mutating patterns every season, boosters are our best bet to provide greater protection against infection and serious illness this fall. As Offit and other experts have told Inverse, you should get boosted ASAP, especially if you're among those at a higher risk of contracting severe Covid-19 (i.e., the elderly, those with serious medical conditions, and the immunocompromised).
"If you are eligible, there is no bad time to get your Covid-19 booster and I strongly encourage you to receive it," CDC director Rochelle Walensky said in a statement on Friday.
There are a few exceptions. If you're presently battling Covid, the CDC advises you should wait up to three months after you've recovered, although this may vary depending on your personal infection risk and the extent of transmission where you live. You should also wait about three months if you were diagnosed with multi-inflammatory syndrome — a severe complication of Covid-19 infection experienced by both adults and children where different parts and organs of the body become inflamed.
If you haven't been vaccinated at all, you can only get the boosters within the recommended timeframe after receiving the original shots. This is because the booster contains a smaller dose of Covid-19 protection, which is enough to reinvigorate your immune system's memory of the virus (and teach it to recognize the new variants) but not to establish immunity in an unvaccinated individual.
Can you combine your booster with flu shots?
The timing of the Omicron-specific boosters comes just as we're heading into our winter of discontent, aka influenza season. According to the CDC, generally, the best time to get vaccinated to ensure protection during the peak of influenza activity, which usually falls between December and February, is late October. But many pharmacies like CVS and Walgreens are allowing folks to schedule their flu shots now alongside the new Covid-19 jabs. Considering the flu has a well-established seasonality whereas SARS-CoV-2 doesn't (yet), should you double up now or space the two out?
One study out of the U.K. called the ComFluCov study, investigated the effects of giving both the flu shot and Covid-19 boosters at the same. Specifically, researchers looked at whether administering older versions of the Covid-19 vaccines alongside the seasonal flu shot impacted antibody responses or led to any adverse effects. The result? The combo did not appear to.
Bear in mind, of course, what we discussed earlier about when you can get boosted. If you're not due for the Omicron-specific shot until much later, you might as well go ahead and get your flu shot first this fall. It's otherwise fine to get them together.
Speaking of adverse side effects, are there any with the booster shots?
Again, while we don't have all the data as human trials on the bespoke vaccines are ongoing. But we do have a good sense that the side effects are expected to be much as with previous Covid-19 shots. Based on clinical trials for the BA.1 shots for both Pfizer-BioNTech and Moderna, the most common complaint participants experienced within a week was pain at the injection site that was overall mild (although a few experience more moderate to severe pain), according to the FDA's review for emergency use authorization. Other commonly reported side effects included fatigue, headache, muscle pain, chills, joint pain, and fever that all went away within a few days.
Side effects may sound worrisome but they are actually good signs the booster is doing its job of triggering the immune system. But don't worry if you don't experience side effects. We know from vaccine clinical trials, half of participants don't necessarily come with any side effects but the shots still work for them, according to Memorial Sloan Kettering Cancer Center.
This article was originally published on