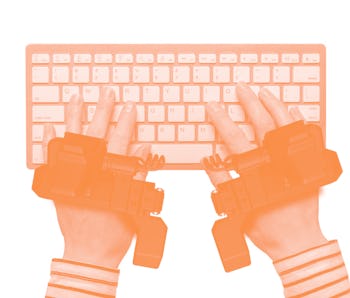 CES 2023
Shiftall's new VR controller solves the metaverse's most obvious problem
FlipVR is a wearable controller that lets use your hands without having to take off your VR controller.
Shiftall
Shiftall is hoping to solve one of VR's simplest but most annoying problems at CES 2023: having to unstrap and put down your VR controller to use your hands.
The new FlipVR is a controller that can flip out of the way when you need to use your hands, removing the need to deal with straps at all, and it's launching later this year in 2023.
Flipping out
Shiftall might be best known for its Mutalk "VR muzzle" for quieter voice chats. FlipVR solves for the inconveniences of VR controllers in a similar blunt but effective way. Rather than relying on a wrist strap and actually holding the controllers in your hands, the FlipVR slips on with an adjustable strap.
Wearing the FlipVR you'll have access to the same controls you'd expect from Meta's Touch or Touch Pro Controllers or really any other popular VR controller. That's including AB and XY buttons, two touch-sensitive thumbsticks, triggers for each hand, and a system button for calling up menus. The difference is as soon as you need to use your hands, you can physically flip the controllers away to the back of your hand with a flick of your wrist. That you can use your hands freely without losing tracking in an app, letting you type on a keyboard or grab a drink without issues.
Shiftall says the FlipVR is compatible with SteamVR and can be tracked by a Lighthouse tracking system like the kind used by the Valve Index. The FlipVR will charge over USB-C and should get around 7 hours of battery life according to Shiftall.
The FlipVR is planned to be released in 2023 with a yet-to-be-determined price.
INVERSE brings you everything from the fun and futuristic world of consumer technology at CES 2023. For all the latest technology coverage from the show, go to the INVERSE CES 2023 hub.