This sleek e-bike may be more than just a Super73 knockoff
Ride1Up nailed the design of its first moped-style e-bike, the Revv 1.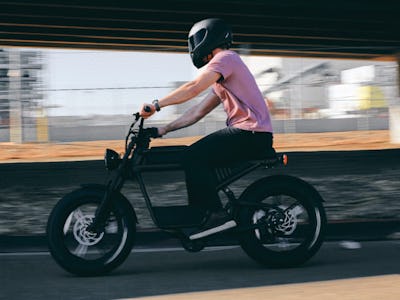 Ride1Up is expanding its lineup beyond the typical commuter-style electric bicycles. The e-bike company debuted its Revv 1 moped-style e-bike that was built to be more performance-minded. It's the first time that Ride1Up is offering a moped-style option since most of its products follow a more standard bicycle design.
The Revv 1 feels very similar to the e-bike offerings from Super73, which first popularized this sleek and sporty look with its e-bikes. Ride1Up's alternative shares a similar look, but has the specs to back up its build and is still designed to be capable as a daily commuter.
Choose your suspension — Ride1Up is offering the Revv 1 in two builds, one with full suspension and another with a hardtail. Both options can hit a top speed of 20 mph in pedal-assist or throttle modes but can be unlocked for at least 28 mph by switching into "off-road" mode. The 750W motor provides 90 Nm of torque, which means the Revv 1 should provide some kick even if you're cruising around the city.
The 52V battery gets you up to 60 miles of range, depending on how you ride. Ride1Up also designed the Revv 1 with a removable battery system if you're worried about someone stealing your e-bike or yearn for easier charging. The Revv 1 has a 3.5-inch LCD display right above its turn signal indicators and runs on 20-inch fat tires to be able to handle most terrain.
The Revv 1 may not be as cheap as Super73's most affordable Z1 offering which starts at around $1,500, but Ride1Up's option to add a full suspension for a more comfortable ride is compelling. When looking at Super73's RX model that has a dual suspension and starts at $3,300, the Revv 1's similar offering does start to look more attractive.
A solid alternative — There are plenty of Super73 alternatives and the Revv 1 is only the latest to join the growing electric mobility market. The design is clearly popular as you can see with Juiced Bikes' CityScrambler or the Luna Banana, but the Revv 1 may actually be another worthy competitor to Super 73.
Ride1Up will offer the Revv 1 in two color options, gray or green. The hardtail version starts at nearly $1,900 while the full suspension option costs nearly $2,400. Both the Revv 1 models are up for preorder now, with the full suspension option expected to ship first in early March. The hardtail Revv 1 is expected to ship later in April.