Warzone could lose its best map, and that's a huge mistake
Rebirth Island might suffer an unfortunate fate.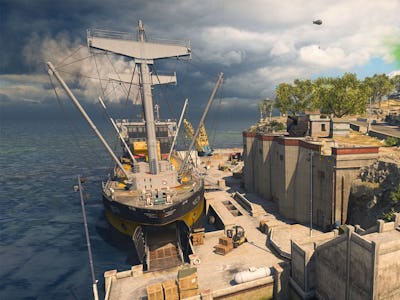 On June 13, Activision unveiled a new Warzone Resurgence map called Fortune's Keep. The map will supposedly launch sometime during the upcoming Season 4, giving players something new to look forward to. However, it's highly likely this map will replace the beloved Rebirth Island, which has slowly become a fan favorite since its launch in December 2020. The addition of something as monumental as a brand new map is exciting, sure, but not at the expense of eliminating Rebirth Island, which has arguably held the game together during lull periods in recent months. But what makes this possible change so troublesome and what exactly is the new Fortune's Keep map?
What is the Warzone Fortune's Keep map?
Fortune's Keep is a new Resurgence map that will likely replace Rebirth Island. Activision has yet to confirm this (we reached out for comment but have yet to hear back). Warzone typically only has one map of the same game type live at any given time. Beyond that, Activision said in a recent blog post that Rebirth is "an island from which [players] may need to escape ..." leading many to believe it will be gone for good, just like the departure of Verdansk. Credible leaker The Ghost of Hope says Rebirth will be nuked before Fortune's Keep is added.
The new map will be more than twice the size of Rebirth Island and will include many more densely populated indoor areas, along with several wide-open spaces, with a seemingly larger variety of POIs, which could work well. The map itself looks to be a fun new addition, though, we worry about the removal of Rebirth Island.
Why replacing Warzone Rebirth Island is a mistake
Following the reveal of Fortune's Keep, excitement for the new map was quickly overshadowed by the fear that it would replace Rebirth Island. To many players — myself included — Rebirth Island has been a saving grace since the new Caldera map was implemented. The reception to Caldera, the game's large 120-player map, was met with criticism, so it seems like a bad idea to risk getting rid of it, even if the new map is fun. A discussion on Reddit was largely comprised of players being upset at the premise of Rebirth Island being removed, with one user saying this will "kill the game if they remove it."
The biggest difference between the two maps is scale. Fortune's Keep will be over twice the size of Rebirth Island, which could negatively impact the pacing. Part of Rebirth's appeal is its fast-paced gameplay loop, which allows players to finish matches in around 15 minutes rather than 30. With Fortune's Keep being over twice the size of Rebirth, Activision runs the risk of slowing things down to the game's detriment. With this in mind, it's likely the player count will need to be increased to accommodate the larger map.
Because of the map's size and the likelihood of an increased player count, Fortune's Keep runs the risk of causing performance issues — just as Caldera still does, six months after launch.
Another worry is the sheer amount of close-quarters indoor areas, especially across Town, Gatehouse, Keep, Winery, and Overlook. Since Resurgence modes allow you to continuously respawn, the idea is to play aggressively, but with so many small indoor areas, we worry that players will be less incentivized to move around. Sure, Rebirth had its fair share of small indoor areas, but Fortune's Keep seems to be dialing it up by a considerable amount. There's certainly room for a new map that experiments with fresh ideas, though, without the safety net of Rebirth Island, players might not return.
Ultimately, Fortune's Keep seems like it will be an interesting time, but with so many concerns, Warzone could end up being in a terrible spot when Season 4 rolls around.